Demolition cannot be the answer to encroachment
Updated on Jan 16, 2023 08:32 PM IST
Data tells us that most housing in urban India is built in some degree of tension with the law. One study, by private consultancy FSG, uses census data to estimate that 33%-47% of housing in urban India is what they term informal. That's one in every two or three houses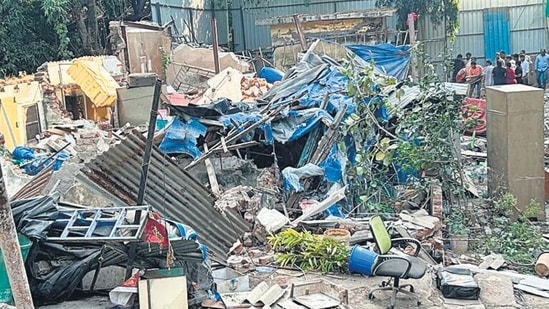 Attempts to demolish housing built on publicly owned land in Uttarakhand's Haldwani town have brought the contentious question of illegal encroachment back into the public arena. Estimates show that in 2021, around 200,000 people were evicted forcefully across India — in the middle of a pandemic — and 15% of these were in anti-encroachment drives. How, then, should we think about the inevitable recurrence of this question in all our cities?
Data tells us that most housing in urban India is built in some degree of tension with the law. One study, by private consultancy FSG, uses census data to estimate that 33%-47% of housing in urban India is what they term informal. That's one in every two or three houses. We don't need studies to know this. Every Indian city has slums, bastis, informal settlements, unauthorised colonies, regularised colonies, irregular layouts, farmhouses, and gated communities built on forest and rural land. Each of these types of housing violates the law in some way.
It is here that we must start. Gaffur Basti in Haldwani is not an exceptional case of violation. It is the rule. As the State and the market failed to provide enough housing, people built their own. Most violated the law because they had to. For the urban majority, the capacity to be legal has not, in large part, ever existed in our cities. The same story echoes across housing (when enough affordable housing isn't available, the poor build bastis and the rich unauthorised colonies), across livelihoods (when no natural markets are recognised, vendors occupy streets), and across businesses (when enough industrial estates aren't notified, non-conforming industrial areas come up). A quick look at, say, Delhi's Master Plans shows this pattern: 24 planned industrial areas sit alongside 22 non-conforming ones; at least half of all housing is in jhuggi-jhopri clusters or unauthorised colonies; and the 200-odd recognised weekly markets are dwarfed by 700-800 that are not.
These are not covert actions. People build in direct and covert partnerships with the State. Every house in Haldwani facing a bulldozer has letters, papers, receipts, identification documents, and permissions stretching back decades to show the slowly built legitimacy of their presence. What the State is now calling encroachment is the same housing that it both necessitated and partook in making. Yet, the State is not being questioned, either inside the courts or in the media.
When a large part of the city's housing structures is built in tension with the law, there can be no clear line between legal or illegal, no simple understanding of violation and encroachment, no just way to suddenly demolish lives and livelihoods, and no way to choose where to enforce the law that isn't informed by arbitrariness at best, or power and prejudice at worst. When the bulldozer arrives selectively, or when some illegalities get regularised while others are punished, the claim that the law is simply being implemented is misleading.
But do we just accept a city where anything can be built anywhere by anyone? No. What we need to re-think is how to govern a city that was built despite the State and within deeply unequal land and housing markets. We must start from the actual city as it exists — warts and all — by refusing to use demolition as an answer. What could this look like?
It starts with the recognition of the rightful presence of citizens that are today described as encroachers. Such recognition emphasises that people need affordable spaces to live in the city and knows that the city needs them equally. It acknowledges that such spaces have not been provided, and thus, measures the value of what has been built instead of focusing on legal status alone. Rightful presence centres the intent behind the building of an unauthorised structure. It asks why, who, and for what a structure exists. In doing so, it is then able to — morally, pragmatically and legally — distinguish between moves to garner wealth from practices of survival; separate equally illegal elite malls, luxury housing or farmhouses from a natural market, street vendor, or basti; draw an intelligible differentiation between different kinds of violations on the basis of the intent behind building and settling.
From here, the key governance response is negotiation and adaptation. Instead of demolition, we must ask how to extend regularisation schemes such as PM-Uday Yojana to all informal settlements so that they can conform to the law. We must explore how mechanisms already used in infrastructure projects to compensate landowners, such as transfer development rights, can be applied, for example to enable the Indian Railways to release claims on a particular site where housing has long existed. We must look at design solutions that can mitigate infrastructural risks, such as the proximity of a railway line, to protect both the track and the housing. We must insist that, if all negotiations fail, we turn to mechanisms of compensation or proximate re-accommodation, rather than demolition.
There is precedence for each of these ideas, in India and globally. Yet, they require a constitutional recognition that demolition can never be a just course of action in a city where the urban majority faces impossible choices between legality and life. It can only act as a means of impunity and legitimised violence that reproduces the worst fault lines of power in our society. When the law is implemented arbitrarily, it is the most marginalised communities that are its first targets. Recognition, regularisation, negotiation, repair and compensation are pragmatic and ethical alternatives. They are admittedly difficult to do. Yet, this is precisely why they have a chance to hold justice because, in this difficult muddle, they are just like our cities.
Gautam Bhan is a researcher on urban housing The views expressed are personal
This Republic Day, unlock premium articles at 74% discount
Enjoy Unlimited Digital Access with HT Premium