Godfather of Gloom: Could Leonard Cohen's latest album be his last?
Updated on Nov 05, 2016 07:46 PM IST
In many ways the nine songs on Cohen's You Want It Darker, could be interpreted as being about mortality; of having settled earthly matters and being ready to move on, writes Sanjoy Narayan.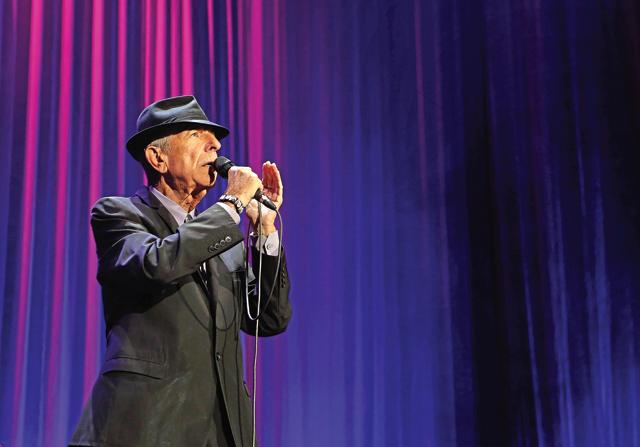 Last week Rolling Stone magazine started a poll, asking readers to say which Leonard Cohen album they liked most. I haven't seen the results of that poll yet but my personal favourite is 1974's New Skin for the Old Ceremony. It was the first Cohen album that I was properly introduced to at a friend's den on the mezzanine floor of his family's house, a secluded room that was a frequent venue for us to listen to music and dabble in activities that were likely to be frowned upon by older folks. These were the late 1970s and this friend was the only one with a great audio system, so we mooched off him. New Skin was Cohen's fourth studio album. A late bloomer, who made his first record at 33, Cohen was already 40 when New Skin was released. But what a set of 11 songs that album is! From the opener, Is This What You Wanted, to the final one, Leaving Green Sleeves, New Skin instantly became a riveting album for me.
Every song on that album is a favourite – Chelsea Hotel #2; Lover Lover Lover; Why Don't You Try; There Is a War… all of them, but especially Field Commander Cohen whose abstract lyrics resonated with the era that I heard them in (there was then, to quote Bob Dylan, "revolution in the air") and words like these struck a chord with us: "Field Commander Cohen, he was our most important spy/Wounded in the line of duty/Parachuting acid into diplomatic cocktail parties/Urging Fidel Castro to abandon fields and castles/Leave it all and like a man/Come back to nothing special/Such as waiting rooms and ticket lines/Silver bullet suicides/And messianic ocean tides/And racial roller-coaster rides/And other forms of boredom advertised as poetry." That sort of poetry wasn't boring at all!
Watch: Leonard Cohen in London
The hook that Rolling Stone magazine used to run its weekly poll on Cohen's albums is the fact that the reigning legend of pop poetry has released a stunner of a new album, You Want It Darker. Cohen is 82 and this is his 14th album. It could well be his last. In David Remnick's brilliant profile of him in The New Yorker recently, Cohen tells him that he's waiting to die. In many ways the nine songs on You Want It Darker, could be interpreted as being about mortality; about the twilight phase of his life; of having settled his earthly matters and being ready to move on. The songs are bleak – but then which one of Cohen's songs isn't? After all, he has often been described as the "godfather of gloom". But his wry, dry wit makes that misery enjoyable to the ears. As do his vocals. Not a brilliant singer – sometimes his baritone monotonic style can get overpowering – Cohen's voice is now subdued with age. On the cover of You Want It Darker, he's seen holding a cigarette and I'm guessing smoking for years and years has taken further toll on his voice. The songs are now delivered with a bass whisper, a hint of frailty, and a good couple of notches lower than even on some of his more recent albums (such as 2012's Old Ideas and 2014's Popular Problems).
God and religion, themes that are de rigueur in Cohen's lyrics through the years, reappear on You Want It Darker. On the title song, which opens the album, Cohen sings, in what appears to be disappointment with Jesus: "Magnified, sanctified, be thy holy name/Vilified, crucified, in the human frame/A million candles burning for the help that never came."
Cohen's last two albums, Old Ideas and Popular Problems, both may have sounded like the ageing singer-poet's final records but then You Want It Darker happened. It is a haunting album, produced and largely arranged by his musician-son Adam Cohen, 44, and also has what has become a trademark on Cohen's records – female backing vocalists. There's a sense of foreboding too in the songs. On the title track, there's a chant in Hebrew – "Hineni"– that recurs. It means "Here I am", an incantation that Abraham made to God to say that he's ready for when he will be called on.Yes, You Want It Darker is an enigmatic title that can be interpreted to be a challenge; a mere statement; or a deep, inward-looking reflection. And no, it isn't an album that will bring you a smile. But take it out and spin it on a lonely evening that isn't turning out to be happy and it can be a great companion to brood along with.
Tailpiece: Not everything must end darkly. I took a break from Cohen and my own middle-aged rumination for some fun. I always liked the band Ween for their unpredictability (great experimental rock and guitar virtuosity) but also for their not always SFW lyrics. Well, one half of Ween's founders, Michael Melchiondo (better known as Dean Ween) has a new group called The Dean Ween Group. And on their latest release, The Deaner Album, there's a tribute to the Allman Brothers Band's guitarist Dickey Betts. Titled Dickie Betts, it's got southern guitar riffs and is most definitely worth checking out!
Watch: Dean Ween Group at Asheville Music Hall
From HT Brunch, November 6
Follow us on twitter.com/HTBrunch
Connect with us on facebook.com/hindustantimesbrunch
Personalise your news feed. Follow trending topics