Haryana CM announces one-time scheme to settle arears under Passengers and Goods Tax
Aug 25, 2022 09:58 PM IST
Till March 31, 2017, the arrears amounted to ₹2,113 crore, according to Manohar Lal Khattar.
Haryana chief minister Manohar Lal Khattar on Thursday announced a one-time scheme for the settlement of arrears under the Passenger and Goods Tax. The scheme has been devised with an aim to recover the outstanding arrears of Passenger and Goods Tax, which, Khattar said, amounted to more than Rs. 2,000 crore due till March 31, 2017.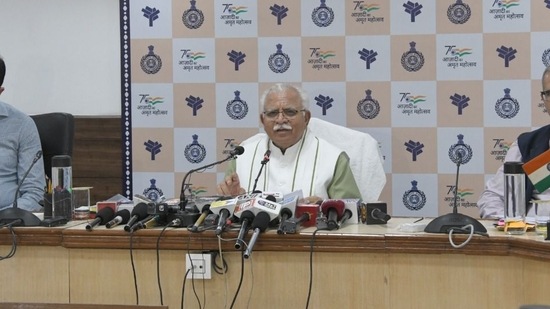 "The Punjab Passenger and Goods Act, 1952, was abolished. However, the tax, interest and penalty of total ₹2,113 crore was due before the said Act was withdrawn," the chief minister said in a press briefing.
Under the one-time scheme, which was formulated by the transport department, if the payment is made within 90 days of the date of issue of the notification, the beneficiary will be required to pay the principal tax amount along with a lump sum settlement amount equal to 25% of the principal tax.
Meanwhile, Khattar also shared the details about the vehicle tax, interest and penalty amount as per the initial assessment. "As many as 262,715 vehicles had a total payable tax of ₹778 crore up to March 31, 2017, while the interest payable till the said date stood at ₹761 crore," the BJP leader said.
He also shared that from April 1, 2017, to March 31, 2021, the total calculated interest was Rs. 574 crores.
Together, these amount to ₹2,113 crore.