Bengal police seize around 270 kg of turtle calipee; three held
Nov 27, 2022 01:35 PM IST
Preliminary interrogation revealed that the consignment was supposed to be smuggled into Bangladesh from where it would go to either China or some Southeast Asian country
West Bengal police seized around 270 kilograms of turtle calipee from Malda district in north Bengal and arrested three persons before the consignment could be smuggled into Bangladesh, officials said.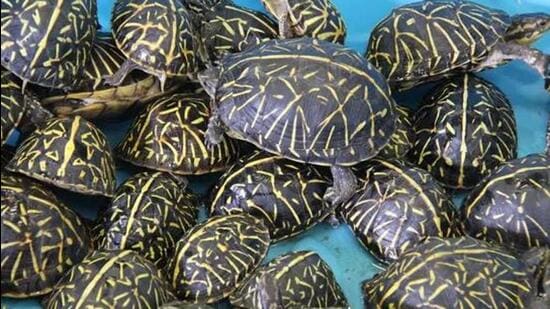 Police said that the arrested accused are residents of Gorakhpur in Uttar Pradesh. They had come to sell off the calipee to a Malda-based agent.
Also Read: India's pitch for greater protection of Leith's softshell turtle adopted by CoP
"Turtle calipee is a gelatinous layer found on the turtle's lower shell. It is sold at exorbitant rates in China and Southeast Asian countries, where they are used to make soups," said Agni Mitra, deputy director of the Wildlife Crime Control Bureau's (WCCB) eastern region.
"It has been learnt from earlier cases that smugglers often try to pass off the calipee as dried tree barks," Mitra said.
Officials said that this is the second such consignment seized in West Bengal after a gap of almost four years.
According to the police, acting on a tip-off, they raided a house at Kalichak in Malda district on Wednesday night and seized the items kept in nylon sacks. The Malda-based agent who was supposed to receive the items is absconding, police said.
"Investigation is ongoing. The accused were booked under the Wildlife (Protection) Act and were produced before the court which granted them police custody," said a senior police officer.
Preliminary interrogation revealed that the consignment was supposed to be smuggled into Bangladesh from where it would go to either China or some Southeast Asian country.