Saffron rallyists rail against 'love jihad', mouth anti-Muslim lines
Jan 30, 2023 12:47 AM IST
Mumbai : On Sunday morning, a sea of saffron-capped agitators were seen on the streets of Dadar, raising saffron flags and demanding a state law to curb alleged cases of 'love jihad' and religious conversion
Mumbai : On Sunday morning, a sea of saffron-capped agitators were seen on the streets of Dadar, raising saffron flags and demanding a state law to curb alleged cases of 'love jihad' and religious conversion. The rally was held by the Sakal Hindu Samaj, a conglomerate of Hindutva organisations, under the banner of the Hindu Jan Aakrosh Morcha.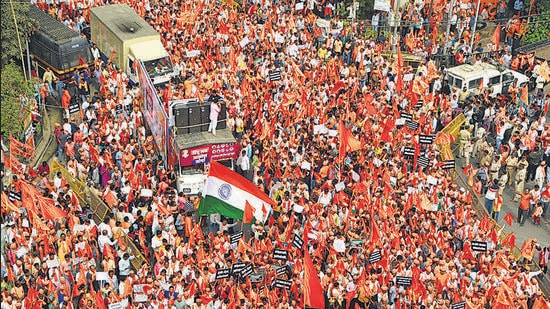 The rally, which commenced from Shivaji Park in Dadar, ended at Kamgar Maidan in Parel. Slogans like 'Jo Hindu hit ki baat kahega, vahi Maharashtra pe raj karega (Only those who speak of Hindu interests will be allowed to rule Maharashtra) rent the air—an indication that the saffron parties and their allies were determined to introduce religious polarisation in Maharashtra's politics before the upcoming elections. Leaders from the BJP and the Eknath Shinde-led BSS also participated in the rally.
The Sakal Hindu Samaj has under its umbrella Hindutva organisations like the Vishwa Hindu Parishad, Bajrang Dal, Hindu Janajagruti Samiti and Sanatan Sanstha. It has participated in several such rallies held by right-wing outfits in the last few weeks across the state.
The rallies come at a time when the BJP-BSS government is contemplating bringing in a law against love jihad or post-marriage religious conversion on the lines of the BJP-ruled states. Indeed, the Shinde-Fadnavis government in December set up a committee to look into inter-faith marriages. 'Love jihad' is a term used by right-wing activists who say that inter-faith marriages are nothing but a concerted effort by Muslim men to convert Hindu women to Islam.
T Raja Singh, a BJP MLA from Telangana, who addressed the public meeting at Kamgar Maidan, used aggressive and provocative language against inter-faith love affairs and warned Muslim youths to keep their distance from Hindu girls. "Be aware about 'love jihad' and (religious) conversions," bellowed Singh, addressing the Hindu community. "Do not buy goods with 'halal' tags on them. Now that the BMC polls are coming, vote only for those parties that talk about Hindu interests and have the capacity to free land from encroachers of a particular community."
Many BJP leaders such as Gopal Shetty, Manoj Kotak, Atul Bhatkhalkar, Nitesh Rane, Pravin Darekar and former MP Kirit Somaiya participated in the rally. Sada Sarvankar from Eknath Shinde's faction also participated with his son and former corporator Samadhan Sarvankar.
BJP MLA Atul Bhatkhalkar, when questioned, said he had participated in the protest not as a BJP MLA but "as a Hindu". "We support the demands by the organisers," he said. "Though our party is in power at the Centre and in the state, every issue cannot be solved by the government. The support of society is important. In the case of love jihad, we want to send out a message that Hindus are awake now and Hindu girls have the support of society and several organisations."
Vishwa Hindu Parishad spokesperson Shreeraj Nair declared that the Shraddha Walkar murder case, incidents of land-grabbing and the construction of religious structures and forcible conversion were the main reasons that led to the decision to organise such protests. "Love jihad is a known fact now," he said. "In order to create awareness among Hindu girls and society about it, we have all come together." Nair said that 31 such rallies had been organised in 12 districts, including Mumbai. There will be many more rallies in the remaining districts of Maharashtra.
Ajit Pawar, Leader of the Opposition in the assembly, was vocal in his criticism. "The BJP is trying to spread hatred in society by supporting such rallies," he said. "The issue of the anti-love jihad act is being raised only for political benefit. Unfortunately, no one is raising a strong voice against this Hindu Jan Aakrosh Morcha."
Political analyst Prakash Bal said the rallies were nothing but the politics of polarisation for the forthcoming municipal corporation and zilla parishad elections in Maharashtra. "Besides, the BJP central leadership knows very well that it has failed on the economic and governance front, and that the polarisation of the Hindu vote bank is its only hope to win the 2024 general elections," he said. "That is the reason they are using Hindu organisations belonging to the Sangh Parivar for rallies."
Maharashtra Congress chief Nana Patole said the ruling allies, BJP and BSS, were trying to misguide people. "They have failed to deliver on poll promises, be it creating two crore jobs every year or doubling farmers' income and other such big talk," he said. "All this is to divert peoples' attention from the real issues."