PCMC residents wage lone battle against hyacinth on Pavana river
Updated on Apr 25, 2018 09:06 PM IST
Like-minded people have cleaned most of Pavana river, without any help from the civic body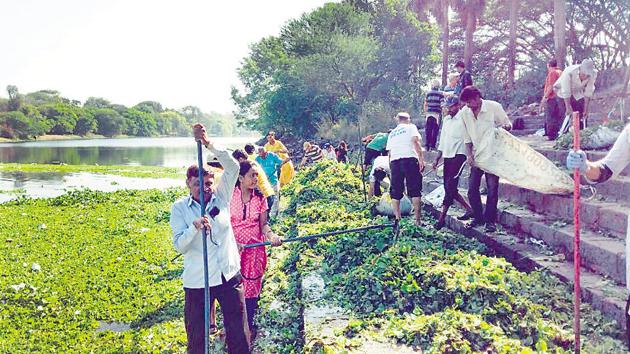 Hindustan Times, Pune |
Shrinivas Deshpande
Pune The Rotary Club of Walhekarwadi, a non-profit organisation, has cleared 1257 tonnes of hyacinth from the Pavana river in the last 171 days without the help of any civic body.
Pradeep Walhekar, president of the Rotary Club of Walhekarwadi, informed that a group of social workers has almost cleared Pavana river from Kiwale to Pimpri and will be clearing the remaining part from Pimpri to old Sangvi by the end of May.
Walhekar said, "For the past 171 days,various social organisations have joined us to remove the water hyacinth from the Pavana river.We have appointed 50 paid labourers every day and on Sundays, more than 200 volunteers are taking part in the activity.Till date, we have invested around ₹7 lakh without the help of any civic body.On December 12, Pimpri Chinchwad Municipal Corporation(PCMC) assured that they will bear the cost of the labourers,but it has not happened."
When questioned about the same, Manoj Lonkar, assistant commissioner, PCMC, said, "We are trying to help them. We are looking into legal norms as well, but it is taking time. We will extend our help to them very soon."
The Rotary Club of Walhekarwadi has appealed to all Sangvi residents to come forward and contribute towards the cause which will help in keeping the Pavana river hyacinth-free.
More than 10 social organisations from Sangvi with 100 volunteers conducted the hyacinth cleaning drive on Monday. Social worker,Raju Salve said, "We have approached the civic body many times but there has been no response from them. Mosquitos are breeding in our area and so we have decided to clear the area with the help of few volunteers. Around 8-10 trucks of water hyacinth were removed on the first day."
The failure of PCMC to check the uncontrolled growth of water hyacinth in the Pavana and Indrayani rivers has increased the breeding of mosquitoes causing extreme discomfort to residents in many parts of PCMC, Sanghvi, Bopodi, Khadki and other neighbouring areas.