Elections 2019: Money power still rules the roost
Criminals were used to influence and create pressure during elections. But now the same task is performed through the use of vast amounts of cash. The hooligans turned into leaders, and the leaders become slaves to money. We did not even realise it until it was too late.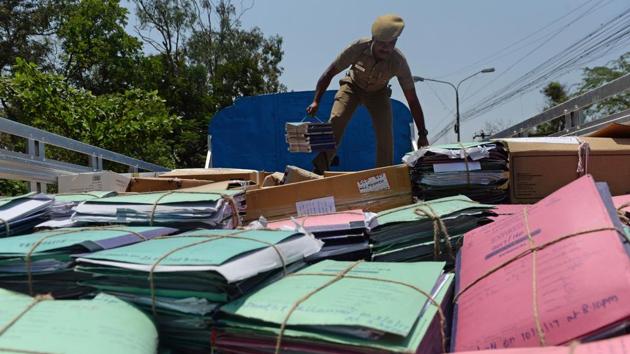 Published on Apr 29, 2019 07:56 AM IST
While on election coverage, an old anecdote came to my mind. It was 1974. The wife of a bureaucrat got a chance meet then Prime Minister Mrs Indira Gandhi to whom she expressed her desire to do something for the country. In this brief meeting, that young woman was able to impress Indira Gandhi and the Congress selected her as a candidate from one of the assembly seats in Uttar Pradesh. But neither she nor her family was ready for her to contest the election. For two days, the family debated the matter. After much deliberation, they decided that she should contest the elections. The next day, the family reached the constituency from where she was fielded. From here that family began a new journey.
The family was so idealistic that it abstained from using its surname which could give away its caste. But when the lady reached there, she came to know that she has been chosen only because she belonged to a particular caste. This was the first bad omen. Another major surprise awaited her in the village where her husband's cousin lived. He was involved in active politics and it was believed that he could influence at least 10,000 votes belonging to a backward caste.
After all welcome ceremonies, the discussion on the most important issue began and her bhai saheb demanded ₹10,000 to buy alcohol for chhote log. This demand came as a shock to her. That elections witnessed such shameless misuse of money and manpower, which was positively frightening. The young woman thought it better to withdraw and went back.
She used to tell her children during those days that a day would certainly come when politics would be clean. She told them that politics was so venal as the country was mired in illiteracy and poverty. How wrong was she! Please recall. In the 70s only 37% people were literate of the total population of 55 crores. Now in a population of more than 125 crore, the literacy rate has jumped to 74.04%. Times changed, education spread and literacy increased, the usage of digital equipment have influenced people's perception and understanding, but has money stopped playing a major role in politics?
To answer this question, I will take you to Dharwad in Karnataka. The conversation I had with the people in the villages there last week revealed many things. The most important among these was that many families get a certain amount of money per vote. The ritual of distributing alcohol and food is still remains. A friend of mine, who left journalism to join politics during 2014 Lok Sabha elections, also had the same experience in Rohaniya village near Varanasi. When he reached a village to campaign for Arvind Kejriwal, a woman clearly said in Bhojpuri, "Vote chahi to paisva da." (if you want our vote, give us money). It's clear that from North to South, money power influences Indian democracy the most. As a result, the number of millionaires jumped to 315 in the 15th Lok Sabha from 156 in the previous one. And in the outgoing Lok Sabha, 449 members out of 543 are millionaires or billionaires. In the newly-elected state assemblies in Telangana and Mizoram, 90% of the legislators are millionaires, and in Rajasthan 80% of the legislators fall in this category. In the Madhya Pradesh assembly, 187 out of 230 legislators are millionaires. It's not surprising that until now cash, alcohol and drugs worth about ₹3,000 crores have been recovered in various raids after the Lok Sabha elections were announced. All the old records have been broken and the seizure of cash still continues.
Many questions arise if we try to examine electoral politics on the basis of these astounding figures. Are there any links between the amount of cash seized, election after election, and the voting percentage? Isn't what we are taking as awareness an indication of the darkness becoming more intense? How concerned will those people be about the betterment of the poor whose support they get by buying their votes? If our voters become sellers and leaders the creditors, then what will become of our democracy?
Earlier, criminals were used to influence and create pressure during elections. But now the same task is performed through the use of vast amounts of cash. Over the last seven decades, when did the hooligans turned into leaders and when did the leaders become slaves to money? It happened incrementally and we did not even realise it until it was too late.
Shashi Shekhar is editor-in-chief, Hindustan
The views expressed are personal
Close Story
Personalise your news feed. Follow trending topics