Post NGT order, Uttarakhand bans quarrying in Ganga, its tributaries
While environmentalists have welcome the government order, those involved directly or indirectly in quarrying business are apprehensive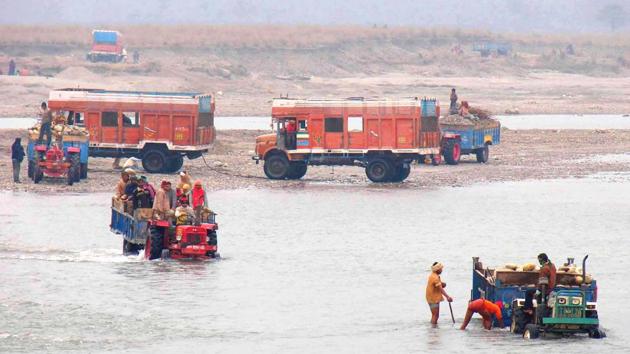 Updated on Mar 04, 2018 09:03 PM IST
Hindustan Times, Dehradun | By Sandeep Rawat
The Uttarakhand government has banned quarrying in Ganga and its tributaries. The ban comes following an interim order by the National Green Tribunal and will remain in effect till the green body passes final order.
While environmentalists have welcome the government order, issued on Saturday, those involved directly or indirectly in quarrying business and villagers who depend on 'chugan' — quarrying by hand — and plying tractor-trolleys to ferry quarried material are apprehensive.
Quarrying business provides employment to thousands of people, with Uttarakhand Forest Development Corporation (UFDC), Kumaon Mandal Vikas Nigam (KMVN), and Garhwal Mandal Vikas Nigam (GMVN) being the three government nodal agencies authorized to carry out quarrying activities.
Notably, NGT had on February 16 banned quarrying in Ganga and its tributaries following a complaint by Haridwar based social activist Vijay Verma. The NGT also took cognizance of a report submitted by 10-member team of Union ministry of Environment and forest on impact of quarrying on environment and local ecology.
As per Dinesh Bhatt, deputy director, quarrying, seven permits issued by the forest development corporation for quarrying were cancelled and all the 10 gates from where the material was ferried, closed immediately after NGT order came.
Earlier, two seers associated with Matri Sadan— ashram head Swami Shivanand Saraswati and Brhamachari Atmabodhanand — had staged fast unto death demanding prohibition on quarrying in Haridwar.
Swami Shivanand questioned the role of administration in permitting quarrying in the district, which has led to mass scale damage to the Ganga river bed and local ecology.
Shivanand said that he will file a suit in Nainital High Court against district officials for ignoring the court and NGT directives given in recent past regarding prohibition on quarrying.
On the reason cited by pro-quarrying supporters that boulders come from the upper reaches of Himalayas through Ganga in Haridwar and thus quarrying should be allowed, Swami Shivanand said, "No stones or boulders come from upper stream to Haridwar plains. NGT has already directed experts at Forest Research Institute, Dehradun, to carry out an extensive research on this aspect for which they have sought minimum 3 years' time. That means before this report gets submitted quarrying will remain prohibited."
Khanan Samarthak Sangarsh Samiti's district chief Lokesh Kumar said that thousands of families will get affected due to quarrying prohibition so NGT should reconsider its decision. "We want the ban on quarrying lifted else thousands of people would be rendered unemployed. If need be, we will stage indefinite fast unto death," said Rohtash Singh, a representative of Khanan Chugan Sangarsh Samiti.
Blow by blow
2009: High Court bans river bed quarrying
2009: HC allows quarrying only after environment impact assessment clearance
2011: BJP government in state bans quarrying at Haridwar's Bhogpur and Bishanpur Kundi ghats.
2012: Congress government lifts ban on quarrying at the said two ghats
2013: In January, GMVN issues notification banning quarrying at Bhogpur- Bishanpur Kundi ghats in Haridwar.
2013: Anti Mining Force set up in Uttarakhand
2017: In March, Nainital High Court bans quarrying for four months
2017: In May, state orders ban on usage of Pokeland and heavy machines for quarrying purposes in Haridwar.
2017: In July, NGT directs Uttarakhand government to ensure no illegal quarrying was carried out on floodplains of river Ganga
2018: NGT bans quarrying in Ganga and sub-tributaries.
Close Story