Defamation case: Kejriwal apologises to Jaitley, both file motion to settle case
Apr 02, 2018 11:03 PM IST
Finance minister Arun Jaitley had filed a Rs 10 crore defamation suit after AAP leaders made allegations of financial irregularities against him in the Delhi and District Cricket Association of which he was president from 1999 to 2013.
Delhi chief minister and Aam Aadmi Party (AAP) supremo Arvind Kejriwal and his four colleagues apologised to Union finance minister Arun Jaitley on Monday for accusing him of corruption during his tenure as the head of Delhi and District Cricket Association. Hours later, a joint application was moved in the Delhi high court and city court by the parties to settle the over two-year-old litigation.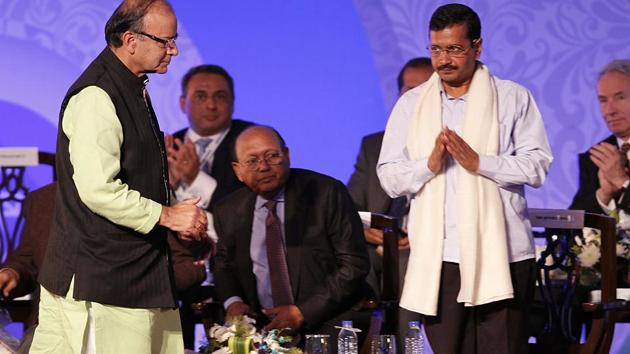 Kejriwal, along with senior AAP leaders Sanjay Singh, Ashutosh, Raghav Chadha and Deepak Bajpai, all named in the criminal and civil defamation case slapped by Jaitley, apologised to the finance minister.
Kumar Vishwas, an AAP leader who has drifted apart from Kejriwal, declined to apologise. He said he would be failing thousands of AAP volunteers if he chose to apologise for calling out political adversaries for their alleged corruption.
Monday's apology was the fourth such tendered by Kejriwal and his colleagues. Since March 15, the leaders have issued written apologies to former Punjab minister Bikram Singh Majithia, Union minister Nitin Gadkari, and Congress leader Kapil Sibal's son Amit Sibal for making defamatory remarks.
The party said they did so to settle as many as 20 defamation cases filed against them by various political leaders across India, adding that they wanted to concentrate their energies on serving the people instead of fighting cases. The matter pertaining to Jaitley and Kejriwal's applications will be heard on Tuesday.
In five separate letters, all dated April 1, Kejriwal and his aides — Ashutosh, Singh, Chadha and Bajpai — expressed regret over their comments against the Union minister during his tenure as DDCA president. Singh had criticised Kejriwal after he had sent a written apology to Majithia last month.
"I made certain statements about you (Jaitley) in December 2015 and thereafter in connection with your tenure as president of the Delhi District Cricket Association," read Kejriwal's letter to Jaitley. The letter continued, "...the information and the imputation contained therein are unfounded and unwarranted and I was clearly misinformed into making these allegations."
In 2015, Jaitley filed a criminal defamation complaint against Kejriwal, Vishwas, Singh, Ashutosh, Chadha and Bajpai over their comments. He also filed a civil defamation suit, seeking Rs10 crore as damages.
In his letter, Kejriwal also apologised on behalf of lawyer Ram Jethmalani, who represented him.
A provocative remark made by Jethmalani in the courtroom spurred Jaitley to slap yet another defamation case against the Delhi CM. Jethmalani subsequently quit the case and demanded Rs1 crore from Kejriwal as his legal fees. "...I categorically state that the disparaging and malicious statements made by Ram Jethmalani, the senior advocate representing me, were without my knowledge and /or instructions," he reiterated.