Rules for an energy-secure global green hydrogen economy
Council on Energy, Environment and Water
Jan 03, 2023 01:03 PM IST
The article has been authored by Arunabha Ghosh, Tulika Gupta, and others.
Hydrogen is not just another fuel. Hydrogen is expected to serve as a primary industrial fuel in the 21st century, just as coal drove the 19th century and oil drove the 20th century. Decarbonised hydrogen – produced by splitting water into hydrogen and oxygen using renewable electricity ('green' hydrogen) or other low-carbon variants that sequester carbon emissions – could be a gamechanger in strengthening energy security and powering the energy transition.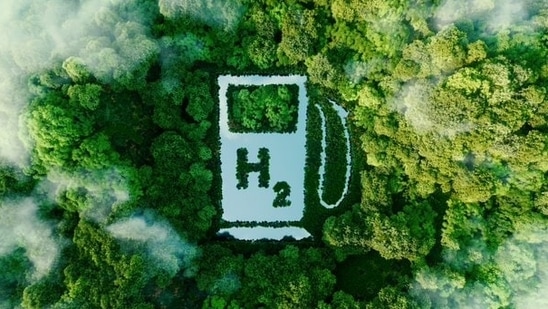 However, there is no energy security architecture to protect the countries that will drive future energy demand or secure the necessary fuels. Countries are thus trying to unilaterally secure access to hydrogen value chains using their own energy security strategies. This race to secure hydrogen could intensify resource conflicts, exacerbate the already-intense global energy insecurity, and obstruct decarbonisation by restricting the access of most economies, especially the developing and Least Developed Countries (LDCs), to this crucial clean energy source.
A robust rules-based architecture is needed to secure the supply and demand of this critical fuel by governing technology development, production, trade and transport, storage, and use.
Decarbonised hydrogen, produced by reducing greenhouse gas (GHG) emissions, could help decarbonise heavy industries such as steel, ammonia and petrochemicals, as well as long-distance freight transport and energy storage, and become integral to novel applications such as sustainable aviation fuels (SAF).
The key drivers currently pushing demand for decarbonised hydrogen include significant advancements in the efficiency and reliability of hydrogen-producing electrolyser and fuel cell technologies, continued decline in the price of solar and wind energy, a projected increase in the efficiency of photovoltaic cells, and the need to achieve global net-zero emissions by 2050.
The increasing importance of decarbonised hydrogen has led to many countries announcing specific strategies, policies and/or partnerships. As of August 2022, at least 38 countries (including 29 developed economies), and the European Union have announced developing national policies/strategies for hydrogen. Meanwhile, 39 bilateral partnerships for decarbonised hydrogen have been announced, focused on joint research and development (R&D), value chain creation and trade partnership, as of August 2022. Several multi-party alliances have also emerged, driven by business interests in specific regions rather than government-to-government discussions. This poses risk of regional fragmentation and unclear rules for technology development, supply chains and trade — unless governments collaboratively build a rules-based global architecture for decarbonised hydrogen.
In a decarbonised world, hydrogen must be accessible to all markets, affordable for retail and industrial consumers, available at scale to bridge the emissions gap, and acceptable as a reliable fuel source. The Council on Energy, Environment and Water (CEEW) proposes eight principles to develop a global, cooperative rules-based architecture based on resilience and equity that could harmonise the decarbonised hydrogen economy:
Creating interoperability via operational and safety standards for clean technologies and fuels
Establishing open and transparent trade for decarbonised hydrogen and its derivatives
Building robust and resilient supply chains to scale up the ecosystem
Defining universally acceptable certification systems
Co-developing technology
Pooling funds to de-risk investments, reduce costs and accelerate joint R&D
Creating consensus for Intellectual Property (IP) norms
Insisting on information transparency and periodic technology assessments
Cooperation and engagement on decarbonised hydrogen cover a broad range of issues involving many entities. The numerous bilateral and multi-party alliances indicate that countries have recognised the need for collaboration. Still, this collaboration could be stifled by bureaucratic charters, inflexible mandates or even unilateral policymaking. A clear framework for a rules-based architecture based on these eight principles is essential to mitigate technology risks, circumvent supply disruptions, and ensure that the benefits of a new decarbonised industrial fuel are equitably accessible.
The report can be accessed by clicking here
The article has been authored by Arunabha Ghosh, Tulika Gupta, and others.