Assam-Arunachal Pradesh border dispute to be resolved by next year: Amit Shah
Updated on May 21, 2022 04:02 PM IST
Shah visited Ramakrishna Mission Ashram in Narottam Nagar in Tirap district of Arunachal Pradesh during his two-day visit to the state.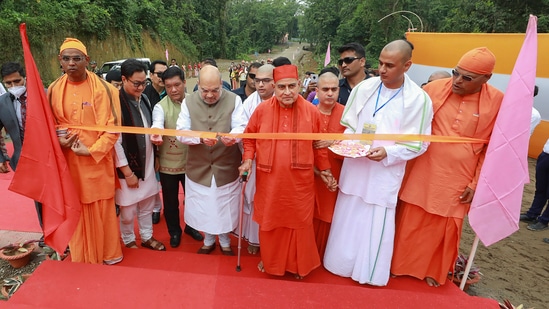 Union home minister Amit Shah on Saturday assured that the inter-state boundary dispute between Assam and Arunachal Pradesh will be resolved by next year, reported news agency PTI. Shah visited Ramakrishna Mission Ashram in Narottam Nagar in Tirap district of Arunachal Pradesh during his two-day visit to the state. Union law minister Kiren Rijiju also visited the Ashram along with Shah.
Shah asserted that efforts are underway to make northeast insurgency-free and claimed 9,000 militants from the region have surrendered during the last eight years of the Narendra Modi government at the Centre.
He said the governments of Arunachal Pradesh and Assam were working for an amicable and permanent resolution of the inter-state boundary dispute. "Youths of Northeast no longer carry guns and petrol bombs. They are now carrying laptops and are launching startups. This is the path of development that the Centre has envisaged for the region," PTI quoted Shah as saying.
Assam shares an 804 km-long boundary with Arunachal Pradesh. Though there was no dispute initially, over the years allegations of residents of one state encroaching land on the other have led to disputes and violence. A suit has been pending in the Supreme Court since 1989 on the issue.
Last year, following the insistence of both Prime Minister Narendra Modi and Shah, both states had resolved to settle their border dispute out of court through talks.
The border dispute between the two states has its genesis in 1873 when the British started the inner-line regulation creating an imaginary boundary between the plains and hills areas north of Assam. The inner-line regulation, which still exists, requires people from outside Arunachal Pradesh to take permits before entering the state.
This area 'separated' from Assam was initially called North East Frontier Tracts and later North East Frontier Agency (NEFA). It was under the administrative jurisdiction of Assam post-Independence.
In 1972, NEFA was renamed as Arunachal Pradesh and granted status of union territory and it became a full-fledged state in 1987. But before it got its present boundaries, a committee headed by former Assam chief minister Gopinath Bordoloi transferred around 3650 sq km of territory, which was earlier with NEFA, to Assam.
This transfer done without consultations with the people or administration of NEFA is the prime bone of contention between both states as Arunachal Pradesh doesn't recognise it.
Last month, chief ministers of Assam and Meghalaya inked a deal in New Delhi in the presence of union home minister Amit Shah to resolve 6 of the 12 points of dispute along their border.
Amit Shah's two-day visit
During the two-day visit to the northeastern state, Shah is scheduled to attend public events, inaugurate various development projects and interact with the personnel of Indo-Tibetan Border Police (ITBP) and Sashastra Seema Bal (SSB)-- the Central Armed Police Forces under the ministry of home affairs deployed in the region to guard the border and maintain the internal security of the country.
Shah also attended the Golden Jubilee Celebrations of Ramakrishna Mission at Narottam Nagar in Tirap district. He laid the foundation stone of 51 feet bronze statue of Bhagwan Parashuram at Parshuram Kund in the Lohit district.
On day two, Shah will meet with social organisations at 9.30 am at the Namsai town and later go for prayer at the Golden Pagoda Temple in the area.
He will later attend a public meeting and inaugurate various developmental projects in the Namsai area at 11 am on Sunday.
Later in the day, the Shah will review security and development, and interact with Army, ITBP, SSB, Assam Rifles, Border Road Organisation and National Highways Infrastructure Development Corporation Ltd (NHIDLC) personnel at Namsai.
(With inputs from PTI and ANI)
Personalise your news feed. Follow trending topics