Conflict on rise as animal space shrinks
Hindustan Times, New Delhi/Gurugram |
, New Delhi
Jayashree Nandi & Prayag Desai
Nov 06, 2018 10:35 AM IST
According to data from the Union environment ministry, more than 1,608 humans were killed in human-wildlife conflict cases involving tigers, leopards, bears and elephants between 2013 and 2017.
Avni and Sundari may have made the headlines. Many others make just the footnotes.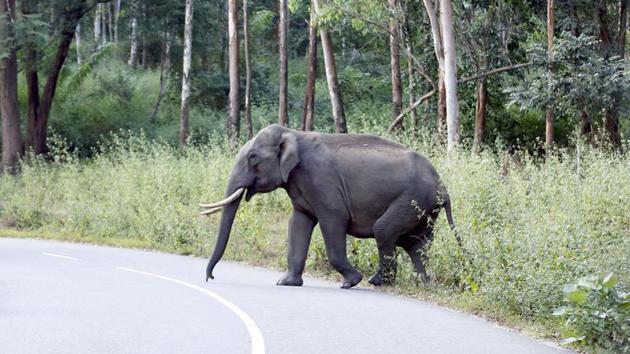 Over the past two months, India has witnessed dramatic instances of human-wildlife conflict, with villagers in Maharashtra and Odisha demanding removal of tigers they suspect to be "man-eaters".
While the controversial killing of six-year-old tigress Avni in Maharashtra on Friday by the son of a government-appointed private shooter, and the relocation of 30-month-old tigress Sundari to Nandankanan zoo in Odisha last month grabbed media attention, conflict for space occurs every day between wildlife and people living in and around forests.
According to data from the Union environment ministry, more than 1,608 humans were killed in conflict cases involving tigers, leopards, bears and elephants between 2013 and 2017.
The ministry has sourced this data from 23 states that record wildlife-human conflict data. These do not include all conflict issues, such as crop raids by animals not included in schedule 1 (of the wildlife protection act), such as monkeys, wild boars and nilgai.
There is no data on the number of animals killed by humans in human-wildlife conflict cases. The state governments compile data based on the compensation claims filed by the people who have been affected.
A senior environment ministry official said on condition of anonymity that the ministry has come up with three policies over the past two years to deal with conflict cases. The compensation for human deaths has been increased from Rs 2.5 lakh to Rs 5 lakh and guidelines to the effect have been issued to states. Guidelines by Project Elephant and National Tiger Conservation Authority (NTCA) have been issued on mitigating human-wildlife conflict and immune-contraception has been started to control population of nilgai, monkeys and wildboars.
Land grab
Still, increasing habitat loss and fragmentation of corridors animals have used for centuries are certain to cause a spurt in cases, making it vital to develop forest fringes to give animals space to survive, experts say.
In the area of Gwal Pahari on the Gurugram-Faridabad Road, for example, the district town and country planning department has issued change of land use permissions to at least four builders for large scale real estate projects in the last two years.
"There are a number of instances where elephants are coming out of their habitat; we are observing behaviour changes too. In south Bengal, elephants used to come from the Dalma range in Jharkhand, but now they are confined in south Bengal, which is why they stray into human habitat," said Siddhanta Das, director general, forests.
And when they do, and cause damage, the locals lash out.
Indeed, the anger against wildlife is palpable. "In Sundari's case in Odisha, the forest establishment there was under so much pressure. Villagers razed the forest department building. There was so much anger in the public against the tigress," Das added.
Land is a precious commodity and, in a country where there are many human-human conflicts over it, animals are bound to be second priority.
"The main driver for the conflict is loss of habitat. Elephants, for example, move from 600 to 700 sq km in a year and in some extreme cases, male elephants have been known to move up to 2,800 sq km in a year.
"But with only 5% of India's geographical area being in the protected area category, these animals don't have the space they require," said M Ananda Kumar of the Nature Conservation Foundation who focuses on wildlife conflict in the Valaparai region of Tamil Nadu.
This isn't a situation particular to Tamil Nadu or Karnataka. The encroachment of elephant corridors in Jharkand and Orissa has meant the pachyderms stray into agricultural land, resulting in conflict with humans.
Nor is this an issue only in the case of elephants. In Gurugram, it is about leopards.
"There are two major highways, National Highway 8 and the Gurgaon-Faridbad Road, which cut through leopard habitat and hinder their ability to move around in search of food and water," said Chetan Agarwal, a city-based environment analyst.
The increasing population of certain species raises the frequency of conflicts unless community support and space is ensured. There are 30,000 elephants in India, and 2,226 tigers. Environment minister Harsh Vardhan recently said India aims to double the number of tigers and that strategies are being drafted to manage tiger-human conflicts.
In 2017, the Wildlife Institute of India recorded 31 leopards across five districts in Haryana (including Gurugram), a fourfold increase in population since 2012, when a similar survey estimated that there were just eight leopards in the same area (measuring a little over 120 square kilometers).
In 2018, a drone mapping survey by the forest department reported the presence of 35 leopards in Gurugram itself.
"This boom creates a huge conflict of space for the leopards, which are apex predators and require room to move around," said Pia Sethi, of the Centre for Biodiversity and Ecosystem Services at The Energy Research Institute (TERI).
"It is only natural for them outside to stray outside the corridor, which is already quite narrow and becoming narrower as a result of human activity," she added.
Community support
Experts say India is unprepared to deal with cases of conflict because of a complete lack of engagement with affected communities. "There is more focus on reactive measures rather than proactive ones such as community engagement. This means we will be absolutely unprepared to deal with conflict in the next 10 years," said Vidya Athreya, a Pune-based wildlife biologist, who specialises in studying leopards.
Leopards are right there in the middle of the human-animal conflict, with human habitations expanding into patches of scrub and woods that border them, and which traditionally served as habitats for the big cats.
"The government needs to gather knowledge by talking with the affected people and involve stakeholders, like revenue department. Community support is needed to avoid an Avni kind of situation," said Athreya.
"Building community participation in conservation is a better idea than just having protected areas. Without community participation, you can't achieve much," said Siddappa Setty of the Bangalore-based Ashoka Trust for Research on Ecology and the Environment, which works in the Biligiriranga Tiger Reserve.
Since reporting such conflicts is the domain of states, the Centre doesn't know the magnitude of the conflict. "In India, conflict reporting, assessment and associated compensation is administered at local levels, with compensation often not provided for losses inside protected areas," according to a recent paper published by wildlife biologist Krithi K Karanth in Biological Conservation journal on compensation payments and policies towards human wildlife conflicts.
The study found large variations in the amount of compensation paid to villagers under various categories.
Conflict incidents related to crops, property and livestock account for 94% of losses in wildlife conflict and 72% of payments. "These could be reduced by integrating early warning systems with simpler damage-prevention practices (such as improving fencing of crops or better livestock husbandry) in conjunction with simpler and more efficient processing of claims.
The existing variations in policies, payment procedures, amounts, and transaction costs incurred by people across Indian states may lead to differential outcomes for wildlife tolerance and persistence across the country," the study said.
According to the wildlife department, though, there is less cause for worry now. "We have taken efforts to better our wildlife management practices, and we understand the behavior of leopards more than we did two or three years ago," said Vinod Kumar, wildlife conservator, south Haryana.
"We have taken to educating villagers on what to do in these situations, which is why incidents have been leading to rescues," he added.
Since the Mandawar incident, when a leopard was beaten to death by a mob, there have been four cases where leopards were found in Aravalli villages, but were transuqilised and translocated to other areas.
"Understanding the nature of the issue is a decisive first step towards any kind of solution. For example, in Hassan (Karnataka) where we work, people want transportation for their children to go to school because they fear encountering elephants on the way," said Kumar of NCF.
However, Sethi warned that wildlife can only be managed to a certain extent. "While it's true that the situation in the last two years has not been violent, the activities which bring us closer to leopards are continuing unabated," she said.
The Sehrawan toll plaza project, for example, is being planned in an area which is home to at least a dozen leopards.
Another reason for increasing incidents of man-animal conflict in the state , Agarwal pointed out, is the Haryana government's reluctance to recognise its own forests. "There are no reserve forests in the state, and deemed forests are only protected in some cases, if they are part of Aravalli plantation land or notified under the Punjab Land Preservation Act," he said.
More importantly, many parts of the Aravalli range are set to be excluded from the Natural Conservation Zone, delineated by the National Capital Region Planning Board.
(Sibi Arasu in Bengaluru contributed to this story)
Exciting news! Hindustan Times is now on WhatsApp Channels
Subscribe today by clicking the link and stay updated with the latest news!"
Click here!
Get
Latest India News
along with
Latest News
and
Top Headlines
from India and around the world