Hindu right wing group Sanatan Sanstha planned blast at Pune Sunburn festival: Cops
Aug 29, 2018 02:34 PM IST
Maharashtra Police's Anti-Terrorism Squad tells court the accused considered the music festival to be "against Hindu culture".
The Maharashtra Anti-Terrorism Squad (ATS) on Tuesday claimed in a special court that five recently arrested sympathisers of the Hindu right-wing group Sanatan Sanstha (it has distanced itself from them and said they are not its members) planned to plant explosives at last year's edition of Sunburn, an annual electronic dance music festival in Pune.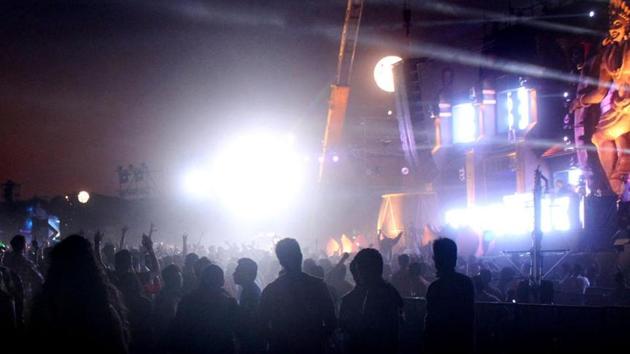 All five were arrested earlier this month from Nalla Sopara, Pune and Jalna in connection with an arms case, and were remanded to ATS custody.
Prosecutors appearing for the ATS made these assertions before a special court constituted to try Unlawful Activities (Prevention) Act cases. On Tuesday, four of the five accused – Vaibhav Raut, Sharad Kalaskar, Sudhanva Gondhalekar and Shrikant Pangarkar – were produced in court, with prosecutors seeking an extension of their custody. Special court judge Sameer Adkar extended their custody by seven days. The fifth accused, Avinash Pawar, will be produced in court on August 31.
ATS officials claimed in court that two of the accused – Gondhalekar and Raut – planned to attack the music festival scheduled in Pune for December 2017 because they felt it was "against Hindu culture". Sunburn was held in Goa until 2015, and shifted to Pune in 2016.
ATS also claimed that the five accused were involved in throwing petrol bombs outside cinema halls in Kalyan (a city in Thane district, 50 km north-east of Mumbai), and Belagavi (earlier known as Belgaum) in Karnataka for screening the Hindi movie 'Padmaavat'. ATS further claimed that the accused planned to attack individuals who they thought were propagating or engaging in activity that was "against the Hindu religion".
Atulchandra Kulkarni, Maharashtra ATS chief, said he could not "confirm the names because it will pose a security threat to the individuals."
The individuals include an author-historian; a former Marathi newspaper editor and three Marathi authors and playrights, ATS officials said on condition of anonymity. Hindustan Times is not naming them because of the perceived security threat to the individuals.
The ATS officials also said they had recovered three motorcycles, including one from Nalla Sopara and two from Pune, and claimed one of three bikes, allegedly owned by Kalaskar, may have been used in the murder of journalist Gauri Lankesh in Bengaluru in September 2017.
In their raids, ATS officials claimed to have recovered 10 pistols, one air pistol, one country-made revolver, 10 pistol barrels, six pistol bodies, six magazines, three handmade magazines, one half-prepared country-made revolver, and seven hand-made pistols from Gondhalekar.
Sunil Gonsalves, the public prosecutor appearing for ATS, told the court that the weapons used by the accused had been dismantled and were thrown away at different places to avoid detection, and that they needed to be recovered. He didn't elaborate.