India lodges protest with Pakistan over conversion of gurdwara into a mosque
Hindustan Times, New Delhi |
HT Correspondent
Jul 27, 2020 11:00 PM IST
The gurdwara is a historical shrine built at the spot where Bhai Taru Singh sustained fatal injuries in 1745.
India said on Monday it had lodged a strong protest with Pakistan over reports that some people were attempting to convert a historic gurdwara in the eastern city of Lahore into a mosque.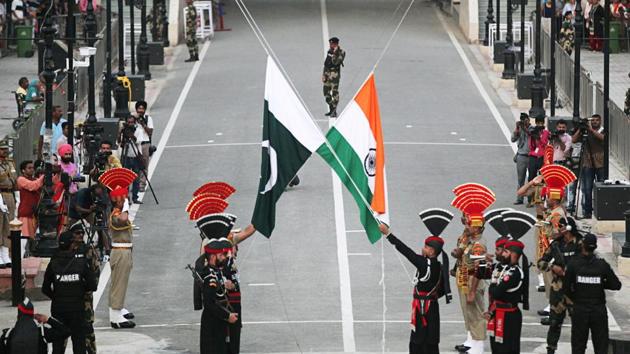 "A strong protest was lodged with the Pakistan high commission today on the reported incident whereby Gurdwara Shahidi Asthan, site of martyrdom of Bhai Taru Singhji at Naulakha Bazaar in Lahore, Pakistan, has been claimed as the place of Masjid Shahid Ganj and attempts are being made to convert it to a mosque," said external affairs ministry spokesperson Anurag Srivastava.
The gurdwara is a historical shrine built at the spot where Bhai Taru Singh sustained fatal injuries in 1745.
ALSO WATCH | Monks in Gaya condemn vandalisation of Buddha's statue in Pakistan
Also read: Sikh leader abducted by terrorists, Hindu minorities stranded in Pakistan due to Covid-19 crisis arrive in Delhi
"The gurdwara is a place of reverence and considered sacred by the Sikh community. This incident has been viewed with grave concern in India. There have been calls for justice for the minority Sikh community in Pakistan," Srivastava said.
"India expressed its concerns in the strongest terms on this incident and called upon Pakistan to investigate the matter and take immediate remedial measures," he added.
Pakistan was also called on to look after the safety, security and well-being of its minorities, including the protection of their religious rights and cultural heritage.
This was the latest in a string of protests made by India over the treatment of Pakistan's minorities, especially Hindus and Sikhs.
Pakistan's Evacuee Trust Property Board (ETPB), a state-run body responsible for the management of shrines of religious minorities, on Monday asked police to take "strict disciplinary action" against a Lahore resident named Sohail Butt Attari, who was allegedly behind efforts to "provoke people against the historical Gurdwara Taro Singh and occupy the attached vacant plot in Landa Bazar".
Also read | Kargil Vijay Diwas: Day to mark India's victory in 1999 conflict against Pakistan
A letter written by ETPB to the police, which was released by Pakistani officials, also accused Attari of trying to "defame Pakistan by uploading a baseless propaganda video" against the Sikh minority and the Pakistan Sikh Gurdwara Parbandhak Committee. It described the committee as the "only official representative regulatory body" for Pakistani Sikhs.
The letter further said Attari's video was being used by Indian media to damage Pakistan's image and that "multiple conspiracies" were being hatched after the successful opening of the Kartarpur Corridor last year.