India's flagship crop insurance scheme a big leap, but needs fixes
The Pradhan Mantri Fasal Bima Yojana has achieved a better design by merging multiple insurance schemes into one, simplifying norms and cutting down premiums, the evaluation shows.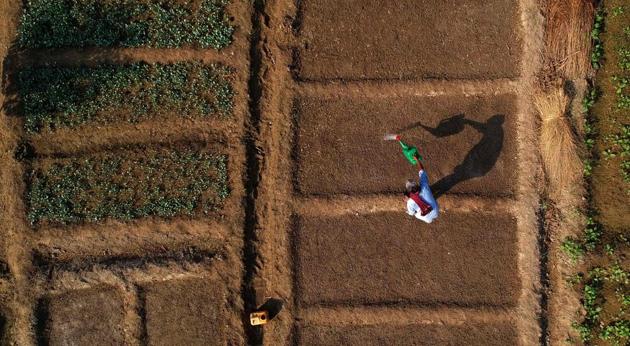 Updated on Nov 04, 2018 09:03 AM IST
The Pradhan Mantri Fasal Bima Yojana (PMFBY), India's flagship crop-insurance scheme which is counted as the world's largest, is a big improvement over older schemes, but its improved features haven't made it any easier to implement or motivated all states equally.
These are some of the key findings of two first-time reviews of the scheme that tracked its performance since its launch in 2016. If the scheme is to achieve its most critical goal — timely payouts to farmers — it can't fly without a raft of high-end technological fixes, from drones to an entirely new constellation of satellites for accurate crop assessments, experts say.
PMFBY has achieved a better design by merging multiple insurance schemes into one, simplifying norms and cutting down premiums, the evaluation shows. Its performance has varied widely between states. A more dramatic finding is that its success rates have varied even among districts within a state, pointing to local hurdles.
Insurance is critical to protecting farm incomes in a country where 54% of the sown area lacks irrigation and 12 million hectares, on average, suffer annual weather shocks. It is also a literal life-saver at a time when parts of the country are in the grip of an agrarian crisis which has resulted in widespread protests and which could be one of the most significant issues in the coming state and general elections.
The Narendra Modi-led goverment will likely tout the benefits of PMFBY as well as its efforts to double farm incomes by offering a support price for crops that is at least 50% over the state-calculated cost of production.
The first study, "Governance Analysis of the PMFBY" by the Centre for Management in Agriculture of the Indian Institute of Management Ahmedabad (IIM-A) tracked the scheme till May 2018. The second by economists Ashok Gulati, Prerna Terway and Siraj Hussain of the Indian Council for Research on International Economic Relations (ICRIER) analysed it until 2016-17.
India will need more cloud-penetrating satellites for faster crop-loss estimates. Setting up such a constellation of satellites would likely cost ₹2,000 crore, assuming an average cost ₹400 crore per satellite, according to Gulati's calculations.
First off, the NDA government's crop insurance scheme scores for correcting a key flaw — capping of sum insured — in an earlier scheme, resulting in very low payouts but high premium, Gulati and his colleagues show in their work "Supporting Indian Farms the Smart Way". Sum insured is the maximum amount an insurance firm is liable to pay.
Removal of this cap has significantly increased sum insured in certain districts. For instance, in UP's Gorakhpur, the actuarial (premium) rate for maize in 2015 (before PMFBY) was 57%, while sum insured was ₹8,415 per hectare. When PMFBY was implemented, the actuarial rate dropped to 4.22% and sum insured went up to ₹12,096 per hectare. Still, the IIM-A review found little improvement in time-bound payments.
Both ICRIER and IIM-A studies throw up state and district level disparities. Farmers in states that adhered to cut-off dates in rolling out the scheme each season experienced timely payments. But, Bihar, Gujarat, Rajasthan and Maharashtra, which delayed the process till July, ended up paying higher premium rates of 20%.
Bihar made a glaring error. It floated tenders when the state was already experiencing flooding in July 2016. "As a result, the companies quoted very high actuarial rate of 17%," the section on crop insurance in Gulati's "Supporting Indian Farms the Smart Way" revealed.
Close Story