'Khalistani extremism more dangerous for Canada than India'
Ujjal Dosanjh spoke to HT on a range of issues from the new wave of migration from Punjab, India-Canada relations and Punjabi diaspora to ethics in politics.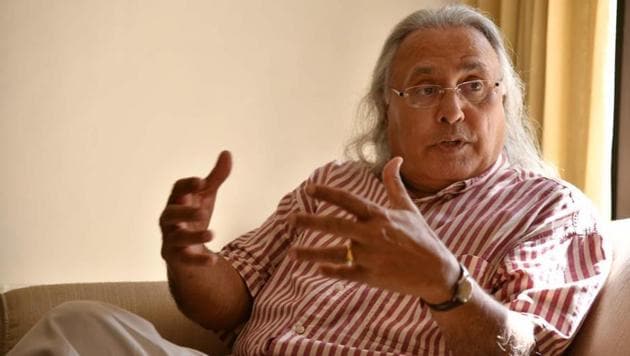 Updated on Mar 24, 2019 10:04 PM IST
Even years after he opted out of tumult of Canadian politics in which he created an unrivalled milestone with his election in 2000 as the first India-origin premier of British Columbia province, Ujjal Dosanjh, 72, is widely recognised as an influential and insightful voice in the Maple country and beyond. Steadfast and clear-eyed in his ideological stand against Khalistani extremism, the former federal minister and Liberal MP revels in speaking his mind even if it is contrary to the party line. One thing he doesn't skip is his at least once-a-year trip to his native village Dosanjh Kalan near Jalandhar from where he, then 17-year-old, had migrated first to Britain and later Canada in the '60s. Dosanjh spoke to Executive Editor Ramesh Vinayak in Chandigarh on Saturday on a range of issues from the new wave of migration from Punjab, India-Canada relations and Punjabi diaspora to ethics in politics. Edited excerpts:
Punjab has in recent years seen a wave of migration of young population to the West, particularly Canada. What do you make of this?
Canada needs people and also knows that people from India, including Punjab, are well-versed with English as a language, more than the Chinese. The number of Indian students has outstripped the Chinese. They allow foreign students to stay as permanent residents because they need a skilled workforce. Canada's population will decline if we didn't have immigrants. This, from the Canadian perspective, is a better way of continuing to increase its population. It is a smart move to bring both talent and money into Canada.
What does it mean for Punjab?
I'm conflicted on this. I'm a Canadian and also an Indian. Punjab should be worried because it is losing energy. It's like a safety valve. You are losing the young and talented, the aspiring young men and women who want to do better in life. If they start leaving in a significant number, that urge and pressure for change in Punjab itself is released. Punjab will suffer in the long run. There is also outflow of money. Previously, you had remittances coming into Punjab. That is low now. The money flow is in the other direction to support studies because foreign fees are high. Families are selling assets to finance their children abroad, hoping they will be immigrants. Punjab has to find a strategy to use its own youth to fuel growth here.
Why don't youngsters see hope here?
It is a humongous problem. Successive governments have failed to create that sense of hope.
What is your take on the India-Canada relations that turned frostier since Canadian prime minister Justin Trudeau's visit last year?
This strain goes back to 1998 when Canada imposed sanctions after India conducted the nuclear test. When I became premier of British Columbia in 2000, I was officially invited by New Delhi and met prime minister Atal Bihari Vajpayee. For a while, things were unclogged, but Trudeau's election in 2013 set the whole process in reverse motion. That was partly because of the Government of India's perception that his associates from the Indo-Canadian community are essentially Khalistanis or Khalistan sympathisers. Then, Trudeau's trip was bungled completely. Little was accomplished. The two PMs may not have seen eye to eye. Sometimes the relationship between countries depends on the chemistry between the leaders. Since then, the relationship is on the backburner.
Khalistani extremism has become the most sticking issue in bilateral ties?
That is my belief, too. Because it goes back to the time when the Trudeau government forestalled Capt Amarinder Singh's travel to Canada ahead of the 2017 Punjab assembly polls. He had just wanted to speak to the Punjabi diaspora who don't vote here. That was offensive and hypocritical as Trudeau, during his India trip later, visited all kinds of temples in all kinds of garbs – and all this was meant for elections back home.
New Delhi blames the Trudeau dispensation for soft-pedalling on pro-Khalistan elements who spew venom against India?
Until recently, the leaders of most Canadian political parties, including Liberals, have been participating in religious processions, including the Baisakhi parade, where floats glorifying Khalistani terrorists are put up. Trudeau's trip highlighted the tensions and it generated a debate in Canada. Now, Canadian politicians have been put on notice that this is improper and they should not be doing it. Hopefully, that implicit condoning and glorification of terrorists will stop.
How serious is the threat of Khalistani extremism?
In Canada, the United Kingdom and parts of the United States, it is a serious issue. Not in the sense of numbers but in the sense that if five or 10 people stand up and say that we are aggrieved at what happened in India in 1984. Because of the religious sentiments, other people don't say anything and they simply follow the lead. But in terms of the real impact on India, it is less so because India is a big place. Even 3,000 diehard Khalistanis in two or three foreign countries are not going to make much impact on India. In fact, it is much more dangerous for the host societies. Because the dream of Khalistan will remain in the cranial cavities of the second or third generation who were born and raised in Canada, and some of them have never visited India. They are fed the lie of Sikhs today being persecuted, massacred and discriminated against. If you continue to believe that lie and there is nothing to counter it, it becomes a problem in the form of a ghetto of Khalistani ideology developing in Canada which may be more worried about some perceived grievances and imagined situation in Punjab than the real issues in the home country. That is more dangerous for Canada.
Given that pro-Khalistan ideology has no resonance in Punjab, what keeps it alive in Canada?
At one level, it is linked to identity politics. More important is the recent past. Post the 1984 massacre, people were angry. But they realised that it was an aberration. That Hindus and Sikhs have never had problems. There has been an unquestionable integrity between the two communities. If you have a riot or a massacre, people still need to live with each other. They realised that ordinary people saved each other and that neighbours are not enemies but friends as they have been for centuries. So there is that ameliorative effect of living together. So there is an opportunity to heal because you see everyone living together, inter-marrying and no discrimination. Manmohan Singh became the prime minister. The country had a Sikh army chief. Those became healing symbols. But in Canada, if you are an immigrant or born and raised there and if you have that anger and grievance in your head, there is no context to heal it. In the '60s when I went to Canada, there were few Hindu temples. Most Indians worshipped at gurdwaras. That had brought the communities together. Today, there is no such thing. Though there are personal relationships and inter-faith marriages, there is no composite living as it is in Chandigarh or in my ancestral village in Jalandhar. That fragmentation of life allows these grievances to fester in people's heads without any counter to it. That will remain a problem for long unless the leadership in places such as Canada begins to say to these people: 'Hey, we see no problem in Punjab. If you see it, go and fight it. But in Canada we need to live together, worry about the here and now, and move on'.
What kind of sway do Khalistanis have among Sikhs overseas?
They are a tiny minority. In terms of sway, it is the silence of the majority that allows Khalistanis to claims that they have vast support.
The 2018 Public Report on the Terrorism Threat to Canada, tabled recently in the Canadian parliament, acknowledged Khalistan extremism as terror threat. Is it a signal that the Trudeau government has woken up to India's sensitivities and is attempting a course correction?
I found that report encouraging. Of course, the Khalistani elements were upset and so were some of Trudeau's ministers and MPs at the mention of Sikh radicalism. I wouldn't call it a course correction. But, it's a beginning and may help thaw Indo-Canadian relations.
Which are the social issues facing the Punjabi diaspora in Canada?
The gang problem has been more significant than the drug issue. The gang problem revolves around drugs. We've lost more than 200 youngsters, mostly Sikhs, since the '90s. I was the attorney general when the first Punjabi kid was killed and he happened to be a Dosanjh from my village.
How has the diaspora's participation in power politics in Canada changed?
There are more people participating; that's good. I worry more about the quality and caliber of people coming to politics. They say more the merrier. But, I say 'better the merrier'.
You speak passionately about ethics in politics. How does India fare?
Not to be critical or partisan but it saddens me when I look at the canvas of Indian politics. There is really no moral or ethical leadership in this country. Not to criticise any one current or past, but we must recognise that ethically India is wanting; Indians are wanting. Without a deep sense of ethics in each and every Indian, India will not make the progress as fast or the kind of progress it could make. India produced so many prophets, saints and reformers because this country needed them. Unfortunately, they did not succeed in transforming India ethically. We believe that once there was 'satyug'. My belief is that India has always been in search of 'satyug', but has not achieved it. I wish it does in my lifetime.
Close Story