Narendra Modi, Xi Jinping meeting during SCO to take Wuhan consensus forward
Updated on Jun 08, 2018 06:08 PM IST
Narendra Modi and Xi Jinping met for nearly 10 hours in less than two days in April during the informal summit in Wuhan, leading to 'strategic communication' and consensus between the two leaders.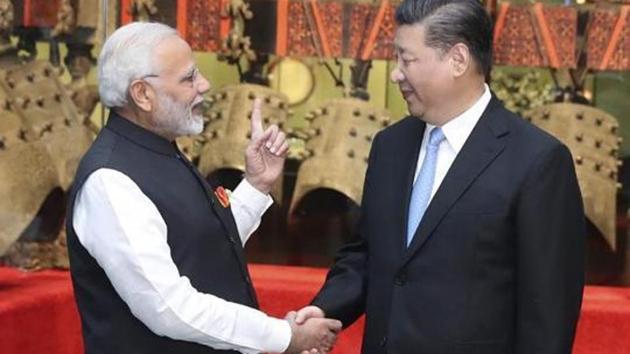 Hindustan Times, Qingdao |
Sutirtho Patranobis
Prime Minister Narendra Modi and Chinese president Xi Jinping will have an opportunity to make a quick assessment of the progress made on the consensus they had reached in Wuhan when they meet on the sidelines of the Shanghai Cooperation Summit (SCO) in the coastal city of Qingdao on Saturday.
Modi and Xi met for nearly 10 hours in less than two days in April during the informal summit in Wuhan, leading to, according to diplomats, "strategic communication" and consensus between the two leaders.
"The first and foremost important consensus (reached at Wuhan) was that India and China are partners in progress and in economic development," Indian envoy Gautam Bambawale said in an interview to state media ahead of the June 9 and 10 SCO summit.
"Of course, there are some differences between us. But we will also work on the differences to ensure that the two countries continue to progress and prosper together. We are not going to be away from each other or apart from each other. We are going to do this together," Bambawale said.
It's possibly a reflection of the times when the Indian envoy talks about "some differences" between India and China. "Some" differences include, for one, the dispute over the 4000 km-long boundary.
It was only a year ago in June that Indian and Chinese soldiers were locked into what became a long military standoff at Doklam (Donglang in Chinese) plunging bilateral ties to the worst chill in decades.
Since the standoff was resolved in late August, ties between the two countries seem to be on an upswing. Top leaders have met at multilateral and bilateral summits, high-level exchanges have resumed and a concerted effort to strengthen ties and enhance the trust factor is seemingly being made.
However, the meeting n Qingdao is not a routine affair. India became a full member of the SCO last year and is participating at the summit for the first time as a full member.
Modi's speech at the recently held Shangri La dialogue in Singapore was carefully followed and analysed in China.
"Modi's speech was constructive and reflected a strong outlook for relations between the two countries," Wang Dehua, south Asia expert at the Shanghai Municipal Center for International Studies, said.
"Whether these gestures represent a policy shift, or simply a desire to ensure there's no embarrassing repetition of last year's border clashes ahead of Indian elections in 2019, is a matter for dispute," Wang said, adding that broadly the relations between the two countries was at a good place now.
Taking the Wuhan consensus forward, India and China can start work on projects or in sectors in which they have common interests, leading south Asian scholar Lu Yang from Tsinghua University.
"Start with something we have common interests and understandings. Find some common ground," Lu said.
Lu added that the meeting on Saturday gives an opportunity to both leaders to strengthen the consensus reached in Wuhan.
The meeting on Saturday and the SCO platform in general given Modi and Xi a new platform to strengthen communication, Hu Shisheng, director of the Institute of South and Southeast Asian and Oceania Studies at the China Institutes of Contemporary International Relations said.
"It (the meeting at SCO) is a good platform for the top leaders to enhance mutual trust," Hu said.
Personalise your news feed. Follow trending topics