Samples of 6 international fliers who tested Covid positive sent for genome sequencing
The passengers are from 11 flights that landed between 12 am and 4 pm on December 1. All of them undertook RT-PCR tests.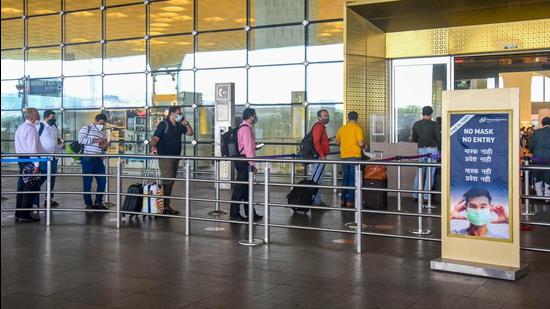 Updated on Dec 02, 2021 04:58 AM IST
Six international passengers tested positive for the Coronavirus disease (Covid-19) out of 3,476 passengers from the so-called at risk countries tested on arrival at airports across the country on December 1, the first day of implementation of the Centre's revised guidelines for Covid testing, according to a government statement. The samples of all six have been sent for whole genome sequencing to confirm the strain.
Also Read | Centre issues FAQs for international passengers amid Omicron variant scare
The passengers are from 11 flights that landed between 12 am and 4 pm on December 1. All of them undertook RT-PCR tests.
The new, tighter testing protocol has been put in place following concerns over a new strain of the SARS-CoV-2 virus that causes Covid-19, called Omicron.
"The samples of the COVID19 positive passengers were sent to INSACOG labs for Whole Genomic Sequencing. Government of India continues to keep track of the evolving situation, and supporting States/UTs in the fight against the pandemic through whole of government approach," the statement added.
Also Read | Eye on Omicron: India defers full resumption of international flights
It did not provide details of the airports in which the six arrived, nor the countries from which they arrived.
The Union ministry of health and family welfare on Sunday revised its travel guidelines for international passengers arriving in India, making RT-PCR tests mandatory for all the passengers coming from at risk countries, irrespective of their Covid-19 vaccination status. The list of at risk countries has the UK, all European countries, South Africa,Brazil, Botswana, China, Mauritius, New Zealand, Zimbabwe, Singapore, Hong Kong, and Israel..
Even passengers testing negative will have to home quarantine for a week and take another test on the eighth day.
Also Read | Amid Omicron scare, 3 Covid positive foreigners in Vrindavan leave India without informing authorities: Report
The earlier travel guidelines, issued on November 11, this year, exempted fully vaccinated passengers from the test.
According to WHO, the Omicron or B.1.1.529 variant has a large number of mutations, some of which are concerning. Preliminary evidence suggests an increased risk of reinfection with this variant, as compared to other VOCs.
Also Read | WHO confirms Omicron Covid-19 variant in 23 countries. Here's the full list
The airport health authorities will also do random RT-PCR testing on arrival of 5% travellers coming from countries excluding the countries "at risk", the guidelines said.
There are 11 countries on India's "at risk" list currently, and travellers coming from these countries will have to follow additional measures.
Topics
Close Story