Uttarakhand glaciers more sensitive to climate change, says study
Updated on Mar 25, 2018 06:06 PM IST
According to scientists , Uttarakhand has 809 supra-glacial lakes compared to 228 in Himachal Pradesh, a state that has twice as many glaciers than its neighbour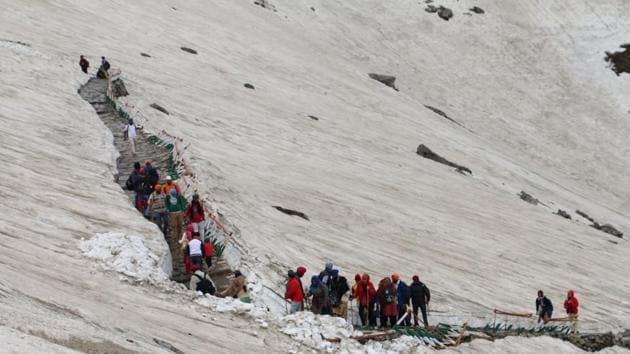 Dehradun
Glaciers in Uttarakhand are more sensitive and susceptible to climate change than those in Himachal Pradesh, which are found largely in the upper latitudes and they receive less rainfall and sunshine because of the terrain, a recent study found.
According to scientists from the Wadia Institute of Himalayan Geology (WIHG) in Dehradun and IIT-Kharagpur, which jointly conducted the research, Uttarakhand has 809 supra-glacial lakes compared to 228 in Himachal Pradesh, a state that has twice as many glaciers than its neighbour.
Supra-glacial lakes are formed on the surface of glaciers when the snow melts, indicating the effect of climate change.
Rakesh Bhambri, scientist at the Centre of Glaciology, WIHG, and lead author of the study, said the glaciers in Uttarakhand are more sensitive because they receive more solar radiation than the ones in Himachal Pradesh.
"Besides, the monsoon is responsible for greater glacial melt in Uttarakhand. When rain hits the lower part of a glacier, the snow melts rapidly. This shrinks a glacier. In Himachal Pradesh, the glaciers are located in rain-shadow areas because of which they receive less rainfall," he said.
Another factor that helps glaciers in Himachal Pradesh retain snow is they receive more snow due to western disturbances, whereas this weather condition doesn't occur much in Uttarakhand, the study found.
The purpose of the study was to create a dataset of all glacial lakes in Himachal Pradesh.
Using high resolution images from Resourcesat-2 LISS IV satellite, the researchers identified 958 glacial lakes in the state. Of these, 345 are identified as moraine-dammed lakes.
These are lakes that are more vulnerable to climate change and can cause disasters if their walls get breached. The Gandhi Sarovar, located at the periphery of the Chorabari Glacier, above Kedarnath was a moraine-dammed lake that burst after excessive rain and glacial meltdown, resulting in the tragedy of 2013.
Experts said this inventory will help understand the dynamics of glaciers and provide reference database to quantify impact of climate change on glacier recession and expansion of glacial lake in the region. Also, it will help identify potentially dangerous lakes.
In 2015, a similar study was conducted to prepare a dataset of glacial lakes in Uttarakhand by the WIHG in Dehradun. The researchers identified 1,266 glacial lakes in the state, of which 329 were moraine-dammed.
"Since we have identified 958 lakes in Himachal Pradesh and 1,266 in Uttarakhand, we will now be able to study the change in their size and volume by comparing the current and future data. We will be able to find if new glacial lakes have formed after this study, which will indicate glacial meltdown," Bhambri said.
Studies in the past identified 156 glacial lakes in Himachal Pradesh in 2004 and 779 in 2014.
"In our report, we recorded nearly 110 new glacial lakes created over a period of two years. Most of the lakes are less than five hectares in size, indicating that they have been formed recently. Overall, all river basins saw an increase in number of glacial lakes," said Kunal Satyarthi, member secretary of the Himachal Pradesh Council for Science, Technology and Environment that conducted the 2014 study.
The major difference between the current and previous studies is that they used satellite images of different resolutions and found different numbers of glacial lakes.
For instance, the 2004 study was based on images from IRS 1D satellite and had no minimum area criteria for identifying lakes. The 2014 study was based on images from Resourcesat-2 LISS 3 satellite but it identified only those lakes that had an area of more than 0.05 square km.
The recent study identified all lakes with an area of more than 0.0005 square km.
"The images that we used are from the best satellite technology available in the country. Many lakes that were not identified in previous studies due to poorer image quality, have been accounted for in this study," Bhambri said.
But the key question remained — has the number of glacial lakes increased? Bhambri responded: "We are not in a position to conclude that the number has increased or not because there is no baseline for comparison as all studies used different image qualities and criteria for minimum lake area was different."
Personalise your news feed. Follow trending topics