When India began to take the East seriously
HT looks back to 1992 when the then prime minister, PVL Narasimha Rao, first announced the largely economic Look East policy and how it evolved into a cornerstone of India's strategic doctrine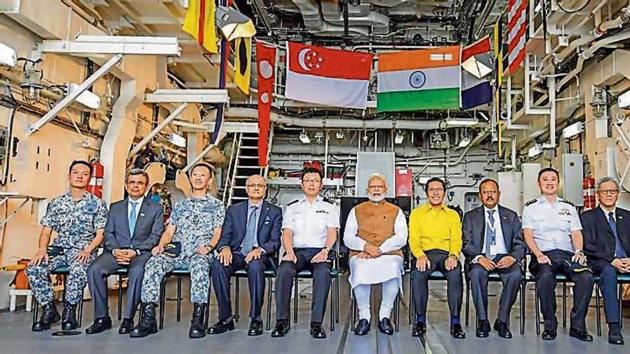 Updated on Jun 03, 2018 08:08 AM IST
Hindustan Times, New Delhi |
Pramit Pal Choudhury
Prime Minister Narendra Modi has just completed a tour of Indonesia, Malaysia and Singapore. Implicit in much what he did was an Indian desire to support South-east Asian attempts to stand up to an overweening Chinese presence in the region.

HT looks back to 1992 when the then prime minister, PVL Narasimha Rao, first announced the largely economic Look East policy and how it evolved into a cornerstone of India's strategic doctrine.
When Rao first conceived the idea of India engaging more closely with the Association of South-east Asian Nations (ASEAN) countries, he was most interested in attracting investment to finance his new economic reforms. His September 1992 speech n Singapore spoke about old cultural ties and new economic opportunities. Countering Chinese influence was a distant second on the list of motives.
Rao criss-crossed South-east Asia building personal ties with the region's leaders and hard-selling the new Indian economy. A Thai journalist dubbed him the "Ninja Turtle". A much younger Mahathir Mohamad ruled Malaysia at the time while Singapore was still under the legendary Lee Kuan Yew. South-east Asian leaders were shocked when Rao was defeated in the elections. But Look East, a phrase coined by former foreign secretary Salman Haidar a year after the original 1992 speech, remained embedded in India's foreign policy.
What happened?
India slowly saw its political ties with ASEAN grow. By 2001 it became an.East Asia summit partner. It negotiated free trade agreements and was invited to defence groupings such as the Asian Regional Forum. Not all South-east Asian countries were initially enthusiastic about embracing India.The second ASEAN trade agreement was delayed for years because of foot-dragging by Manila.
But from 2003, Look East took on a new shape. One, its geographical footprint spread to encompass Australia and Japan. Two, it began developing a military and strategic colour as China began enforcing a territorial claim on the South China Sea. It made sense when External Affairs Minister Sushma Swaraj rebranded it "Act East" in 2014.
Significance
Asia is today a key geopolitical player compared to what it was in 1994. The US and Japan are now among the largest investors in India, partly for strategic reasons. China now seeks to bring ASEAN to its side, project its power into the Indian Ocean and beyond.
Local governments are reacting differently to this flux. Cambodia has chosen to align with China. Every few months, a new strategic geometry is announced. Now there are quads, security diamonds, maritime fulcrums and countless trilaterals. One term finding traction, and the topic of an entire Modi speech last week, is "Indo-Pacific". Translation: the Indian and Pacific Oceans are one strategic space. Look East is today part of something much larger.
Close Story
Personalise your news feed. Follow trending topics