Will Aadhaar curb terrorism, banking fraud? Supreme Court doesn't agree with Centre's argument
Apr 06, 2018 05:51 PM IST
A five-judge constitution bench headed by CJI Dipak Misra, hearing a clutch of petitions challenging the validity of Aadhaar and its enabling 2016 law, said Aadhaar was "not the solution" to banking fraud.
The Aadhaar case in the Supreme Court saw substantive arguments around the applicability of Aadhaar to everything other than the government's welfare schemes, with Attorney General KK Venugopal, appearing for the state, pitching its ability to prevent bank fraud, illegal financial transactions, and the misuse of telecommunication networks by terrorists, and the judges questioning its ability to do this.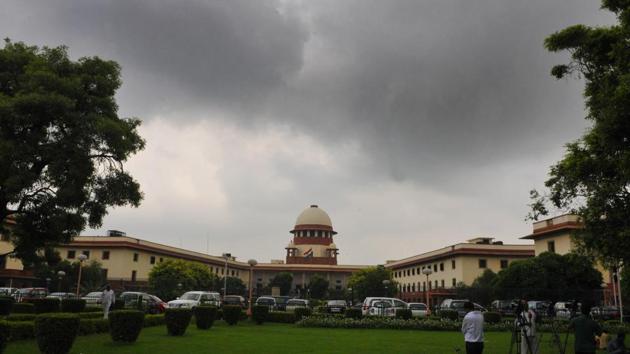 Such back-and-forth play between the counsel and the bench doesn't necessarily indicate the direction of the court's thinking. Nor do the bench's observations.
Still, the court's observations, questioning the merits of linking Aadhaar numbers to bank accounts and mobile phone numbers are interesting.
Originally envisaged as a tool to ensure the efficient targeting of welfare schemes, Aadhaar has since become the one number that links everything from Permanent Account Numbers of the income tax department to mobile phone numbers to mutual fund folios and to bank accounts.
Aadhaar won't stop bank frauds, the Supreme Court observed on Thursday, after the government argued that it would help detect scams. "A bank fraud does not take place because of multiple identities. A loan is given by a banker and he knows who the borrower is. A fraud can take place if only the banker is hand-in-glove with the customer," Justice AK Sikri said when Venugopal argued that (one of the uses of ) Aadhaar was to prevent bank fraud.
The law officer was addressing a constitution bench led by Chief Justice Dipak Misra, which is hearing petitions against the Aadhaar Act.
Justice Sikri termed the law officer's argument "Marxist" when the AG persisted that Aadhaar was voluntary for those who wanted the benefits and those who were accepting the same must be deemed to have given informed consent. The judge remarked: "So, will it be ok if someone says "I will give you food and everything, you just be my slave?"
Venugopal's response was that slavery was illegal, while Aadhaar is lawful.
Another bench member, Justice DY Chandrachud, supported Justice Sikri's views on bank frauds. "Aadhaar cannot stop multiple layers of transactions. One person can set up many companies and can obtain credit against each one of them. Layers of commercial entities cannot be stopped through Aadhaar," the judge said.
Venugopal replied that Aadhaar would stop the creation of benami accounts and track illegal transactions. "But, to stop bank frauds the manger or official at that level needs to carry out due diligence before advancing loans," Justice Sikri remarked.
"What the court wants to say is that the Nirav Modis will continue to flourish in the country despite Aadhaar," Venugopal responded in a lighter vein, referring to the fugitive diamond merchant who is alleged to have perpetrated a fraud on Punjab National Bank. "What we mean is that such kinds of offences need to be tackled at a different level. However, just because Aadhaar cannot stop all frauds cannot be a ground for it to be unconstitutional," Justice Sikri said.
Justice Chandrachud raised the issue of the government assuming that all the services for which it is insisting on Aadhaar amounts to a legitimate state interest. The centre has defended Aadhaar on the ground it fulfils the test of proportionality as laid down by the top court in the privacy judgement and is a fair, just and reasonable law.
"The core issue before us is how far you can cast the net of Aadhaar asking citizens to give their biometric details for services that are not covered under section 7 of the (Aadhaar) law?. Here the essence of proportionality will arise," Justice Chandrachud told Venugopal.
Section 7 deals with government welfare schemes where Aadhaar is mandatory if an individual wants to avail of subsidy benefits.
Echoing justice Chandrachud's statement , which points towards the mandatory linking of Aadhaar with bank accounts and mobile phone connections, Justics Sikri said some petitioners had objected to the manner in which the government is linking Aadhaar to every scheme and service.
Venugopal justified the need for linking Aadhaar with mobile phone connections by citing incidences of terrorist attacks in Kashmir. He said terrorists and their supporters misuse telecom services to spread hatred and carry out attacks.
"Point of the matter is whether a terrorist will apply for a cellphone and whether it is necessary for you to ask each of the 120 crore people for Aadhaar," Justice Chandrachud said.