Debris dumping shrinks huge pond in Navi Mumbai by 75%
May 17, 2018 11:49 AM IST
The court-appointed wetland grievance committee has initiated inquiry after citizens submitted satellite images that show most of the water body in Kharghar has been reclaimed.
Dumping of construction debris has destroyed three-fourth of Murbi Talav, a four-acre pond located in the Mumbai Metropolitan Region (MMR) between sector 18 and 19 at Kharghar, Navi Mumbai, over a period of three years.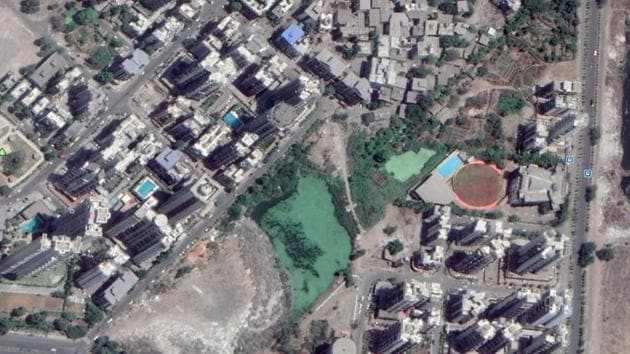 The Bombay high court (HC)-appointed wetland grievance committee has initiated an enquiry into the matter after citizens submitted satellite images that show 75% of the water body has been reclaimed.
Water bodies such as lakes, ponds or tanks stabilise the coastline, control erosion and provide habitat for plant and animal species, prevent floods, and purify and increase the groundwater level during monsoons. They also regulate climate change by storing carbon.
On Tuesday, a complaint was filed by a Navi Mumbai-based NGO, Abhivyakti Group with the state environment department, Bombay high court (HC)-appointed wetland grievance committee and the City Industrial Development Corporation (CIDCO), which is the land owner of the plot to ensure that the remaining portion of the pond remains protected.
The complainant said that the cost of the land once the water body dries out will not be less than Rs200 crore. "This is a clear attempt by unidentified persons to acquire this water body and use it for constructing a residential complex. This is the only remaining natural area as the pond is surrounded by residential complexes on all sides. Immediate action needs to be taken to stop debris dumping at the site," said Deepak Singh, social activist and member of Abhivyakti Group, professionally employed as a steel supplier for various infrastructure projects.
Local residents claim the area has always been a wetland. A much larger water body in sector 17 located a few hundred metres away from Murbi provides high tide saline water to this pond through channels present underneath these residential buildings, said Naresh Singh, resident of the area since 2008 and another member of Abhivyakti.
"The ingress of high tide water originates from the Taloja creek, which runs along the eastern end of all these sectors in Kharghar. At the moment, debris has piled up along the periphery of the pond. If no action is taken, very soon the entire pond will disappear," said Singh, who was the first to raise the issue. "We have spotted trucks without number plates, regularly dumping construction waste here."
Member of the HC wetland grievance committee said the matter was discussed earlier this month. "We have issued directions to CIDCO to submit a report within this month about how the water body is being reclaimed. We are also checking whether this area is a wetland, and ground surveys for the same are underway," said JR Gowda, member secretary of the committee.
"CIDCO has also been directed to ensure no further dumping takes place and to submit a rejuvenation plan for the water body."
CIDCO officials said they had installed a sign board at the site to stop debris dumping. "We are not aware where this debris is coming from. However, we have informed the local police to patrol the area and stop trucks from approaching this site. Based on wetland grievance committee directions, we are drawing up a rejuvenation plan," a CIDCO official said.
"Exciting news! Hindustan Times is now on WhatsApp Channels
Subscribe today by clicking the link and stay updated with the latest news!"
Click here!