Two years on, Chandigarh struggles to turn Smart
Updated on Feb 20, 2018 03:09 PM IST
As per records, construction for most of these projects was to start in October 2017. But sources said it will take another three months before work kick starts.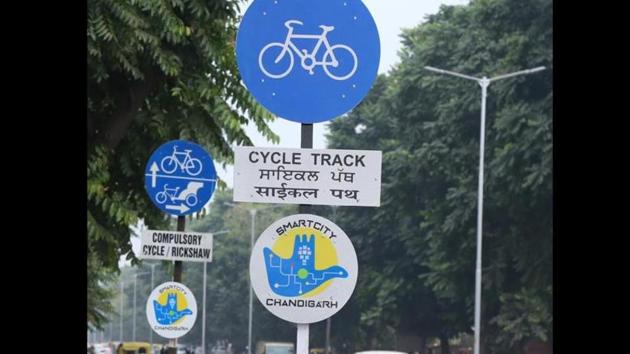 Close to two years after Chandigarh was selected for the Smart City project in May 2016, not much has moved on the ground. Out of the total 70 projects, only one has been completed, while work had started on three. But the remaining are stagnant.
As per records, construction for most of these projects was to start in October 2017. But sources said it will take another three months before work kick starts.
Worse, the Centre has not allocated a single penny to Chandigarh for 2018-19 for implementing the Smart City projects. Reason: The administration has managed to spend only about Rs 3 crore of the Rs 296 crore allocated previously.
A Smart City is an urban region that is highly advanced in terms of overall infrastructure, sustainable real estate, communications and market viability. It is a city where information technology is the principal infrastructure and basis for providing essential services to residents.
For Chandigarh, the plan is to introduce 24x7 water supply, smart metering for power and water, a bicycle track at Leisure Valley, disabled-friendly sidewalks, improve parks. But the plans remain only on paper.
A makeover of the Sector-17 Plaza is also planned. However, the administration has yet to finalise its drawings.
Of the six sectors — 16, 17, 19, 22, 35 and 43 — that are to be taken up as special cases under the Area-Based Development (ABD) plan, the administration plans to spend 90% of the estimated ₹5,600 crore on Sector 43 alone. Some projects will be funded through the private sector with public-private partnerships, that are expected to contribute another Rs 3,000 crore.
A Special Purpose Vehicle (SPV) was formed in May 2016, but the board of directors are yet to appoint its general manager, chief finance officer, company secretary and 10 members of supporting staff.
"We have already given advertisements for the posts. Once we get some applications, the board of directors will take a final call on their appointment," Jitinder Yadav, chief executive officer, Smart City project, said.
Besides, a French firm, Egis International, hired as consultants in May 2017, has yet to submit reports on most of the projects.
Projects yet to see the light of day
Rejuvenation of Sector 17 plaza
As as part of the Smart City initiative, the administration had scripted an elaborate five-year plan to rejuvenate the City Centre.
The consultant, Architectural Studio Delhi, made a presentation before the advisory council , saying the revamped City Centre will emerge as a "mall killer". The plan was approved by the UT heritage and conservation committee, and that's that.
Besides landscaping, it was decided to shift the deputy commissioner's office to the vacant land adjoining Hotel Shivalikview in Sector 17, clean up the buildings in the sector, set up a luxury hotel, business centre, habitat centre, an art and innovation centre, and introduce golf cart and cycles. None of them has seen headway.
Gurjot Singh, associate architect at Architectural Studio, said the delay was due to difficulty in coordinating with various UT departments. "But most of that has been accomplished now. We have prepared samples for cleaning up the buildings, and will start work in next two weeks," he said.
Urban park
An Urban Park will be developed on the pattern of London's Hyde Park.
It's planned on nine acres behind Neelam Theatre, next to the football stadium.
To be lit up with LED lighting, the landscaped park will have food courts, cycle and walking tracks and parking, besides game stations for children.
There will also be an amphitheatre, hall for large gatherings, football ground with integrated pavilion, video screens and other multipurpose playgrounds for recreational sports.
Subway from Rose Garden
Work has begun on a subway connecting Sector 17 to Rose Garden, Sector 16.
The underpass will allow visitors to go directly to Rose Garden without crossing Jan Marg. It will open near the Reserve Bank of India building.
There will also be recreational facilities within the pass.
Cycle tracks
Almost 75% work on cycle tracks has been completed on Vigyan Marg (dividing road between Sectors 4 and 9) at a cost of ₹1.5 crore.
Construction, repair and carpeting of about 99km of the 146km cycle tracks has been completed, while the rest will be completed by June 2018.
The only project completed is road signage. Work on marking the way has been completed on all city roads to enable residents and visitors to locate various sectors.
Official take
"We were a little late in appointing the project management consultant. We appointed one in May last year, and the consultant is now preparing detailed projects reports. We are hopeful of starting all projects in the next three months," Tejdeep Singh Saini, nodal officer, Smart City Limited, Chandigarh, said.
Personalise your news feed. Follow trending topics