Amid flu outbreak in south China, experts warn of dual risk from influenza and Covid: Report
Jun 28, 2022 02:35 PM IST
Weakened herd immunity caused by continuous Covid-19 prevention measures,including lockdowns, may be partly to blame for the abnormal spike in influenza cases at this time of the year, experts said, according to report in the Global Times
A flu outbreak in southern China has led to a shortage of medicines with doctors warning of dual health risks from influenza and sporadic Covid-19 outbreaks, a state media report said on Monday.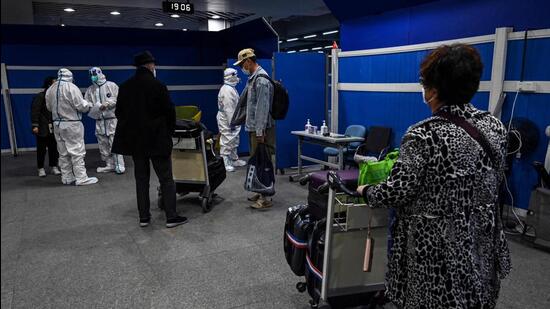 Weakened herd immunity caused by continuous Covid-19 prevention measures,including lockdowns, may be partly to blame for the abnormal spike in influenza cases at this time of the year, experts said, according to a report in the Global Times.
Doctors and experts say it is worrying that influenza numbers are exceeding those seen in winter, which is usually when infections spread more quickly.
"Among the 507 influenza outbreak... in 17 provinces between April 4 and June 19, 503 were in southern China, a sharp increase from the 136 in 2021 in the same period," the latest report by Chinese National Influenza Center (CNIC) said, according to the Global Times report. An influenza outbreak is defined as 10 or more cases.
"Driven by huge demand, influenza antiviral drugs such as oseltamivir are in short supply in many pharmacies of southern China," the news report added.
Two regions in southern China -- Guangdong and Guangxi Zhuang Autonomous Region -- and one in eastern China -- Fujian province -- topped the list with most number of influenza outbreaks, the CNIC report said. They reported 119, 79, and 109 outbreaks respectively.
Lu Hongzhou, a Shenzhen hospital head, told the Global Times that heavy rainfall, low temperature and control measures against Covid-19, which reduced the public's exposure to respiratory pathogens, could have contributed to the "abnormal influenza prevalence in southern China".
The rising infections in south China are dominated by the influenza A (H3N2) subtype, the report said, adding that this subtype is characterised by high epidemic intensity, high infection rate and rapid mutation frequency. Its fatality rate is 0.2%, Lu said.
"Experts believe the chance for a nationwide influenza outbreak is low but warned of the dual risks caused by Covid-19 and influenza. They said it is not yet time to take off masks and give up social distancing," the Global Times report said, adding that doctors are prioritising treatment as a result of rising flu numbers.
The number of visitors to local fever clinics in the Fujian province, for example, rose from 15,000 to 33,000 in June, according to the Fujian provincial health commission.
"The Xiamen (city) health commission in Fujian suggested [paediatricians] to not get involved with Covid-19 related work so as to better deal with the influenza high season among children," the news report said.
Health officials in other provinces too have issued "alerts over the high prevalence of influenza and hospitals (have) adjusted measures to avoid crowded line-up and concentrated presence in public places," it added.
"Exciting news! Hindustan Times is now on WhatsApp Channels
Subscribe today by clicking the link and stay updated with the latest news!"
Click here!
Get Latest
World News
along with
Latest News
from
India
at Hindustan Times.