What Chinese 'spy' balloons can do that satellites can't. Experts reveal
Feb 04, 2023 01:43 PM IST
China spy balloon row: The discovery of the Chinese balloon roiled diplomatic tensions, with US Secretary of State Antony Blinken cancelling a rare-planned trip to Beijing.
The Chinese spy balloons detected over the US skies have heightened diplomatic tension between Washington and Beijing. The spy balloon was first spotted earlier this week loitering over Montana, home to sensitive airbases and strategic missiles, and another over Latin America on Friday. The Pentagon said that the balloons were not being shot down for safety reasons.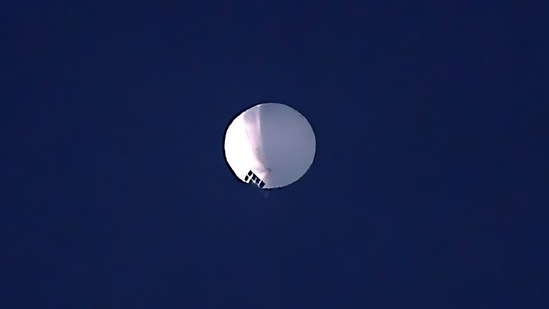 The discovery of the balloon roiled diplomatic tensions with US Secretary of State Antony Blinken cancelling a rare trip to Beijing.
Read here: On shooting down Chinese 'spy' balloon, US expert says 'It's not the Hindenburg'
William Kim, a specialist in surveillance balloons at the Marathon Initiative think tank in Washington, emphasised that the spy balloons are a significant means of observation and traction which are difficult to shoot down. Speaking to AFP, Kim said that the spy balloon looked like a normal weather balloon but with distinct features and characteristics.
Advantages of balloons over satellites:
Kim said that balloons don't easily get detected on radars as these are made up of materials that don't reflect, reported AFP.
"So even though these balloons expand to quite large, detecting... the balloon itself is going to be a problem," he said.
The surveillance balloon expert further added that these balloons usually operate at altitudes of 65,000-100,000 feet and can hold a stationary position over a surveillance target as compared to satellites which constantly revolve within the orbit. The balloons can stay over a spot for months at a time as well, he added.
Moreover, balloon payloads weigh less and can be smaller, cheaper and easier to launch than satellites. Small spy balloons can escape radar detection as well, Peter Layton, former Royal Australian Air Force officer, told CNN.
The spy balloon can also be monitored via onboard computers to take advantage of winds, Blake Herzinger, an expert in Indo-Pacific defense policy at the American Enterprise Institute, told CNN.
Read here: US media using 'spy' balloon incident to 'smear' China, says Beijing
A satellite can't loiter over a spot and several of them are needed to crisscross the target area to maintain surveillance while the balloons can go up and down to a limited degree, he added.
Kim added that it might be a "real possibility" that a Chinese balloon may have been intended to collect data from outside US boundaries, but it malfunctioned due to some snag.
On Friday, Beijing accepted that the balloon belongs to China and claimed that it was a "civilian airship" used mainly for weather research that deviated from its planned course.
It wasn't the first time a spy balloon had been spotted over US territory, although this one is staying longer than in past cases.