On shooting down Chinese 'spy' balloon, US expert says 'It's not the Hindenburg'
Feb 04, 2023 01:16 PM IST
The Pentagon said the balloon over the US is being used for surveillance, rejecting China's claim that the aircraft is a "civilian airship" for research that deviated from course.
While the United States cited safety concerns for not shooting down the suspected Chinese surveillance balloon, a US expert said that balloons are a valuable means of observation that are difficult to shoot down. William Kim, a specialist in surveillance balloons at the Marathon Initiative think tank in Washington, also called it a "real possibility" that a Chinese balloon may have been intended to collect data from outside US boundaries, as claimed by Beijing, but malfunctioned. (Also Read | What Chinese 'spy' balloons can do that satellites can't. Experts reveal)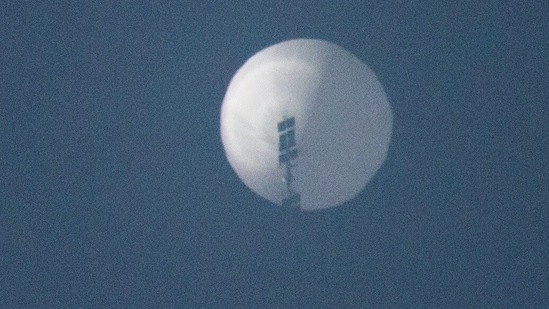 What do we know so far?
A massive white orb, as big as three buses, is floating over the continental US triggering a diplomatic maelstrom. The Pentagon said that the balloon with visible "payload" and surveillance capabilities was found loitering over sensitive areas of Montana where nuclear warheads are siloed.
Pentagon press secretary Brig. Gen. Pat Ryder told a media briefing that the US acted immediately to protect against the collection of sensitive information. Ryder also said that the North American Aerospace Defense Command was continuing to monitor the balloon and leaders were reviewing options against it.
Meanwhile, US state secretary Antony Blinken cancelled his Beijing trip scheduled for next week.
'Meteorological research'
China insisted that the balloon is just an errant civilian airship used mainly for meteorological research that deviated from its course due to winds. The Chinese foreign ministry said in a statement that Beijing "regrets the unintended entry of the airship into US airspace."
Why US not shooting down the balloon
US President Joe Biden initially wanted to shoot the balloon down but top defence officials strongly advised Biden against that move because of risks to the safety of people on the ground, reported Associated Press citing senior administration officials. The report suggested that the balloon is large and high enough that the potential debris from a strike could stretch for miles, with no control over where it would eventually land.
Kim, however, underlined the feasibility, or the lack of it, saying, "These balloons use helium... It's not the Hindenburg, you can't just shoot it and then and then it goes up in flames," referring to the airship accident that occurred on May 6, 1937. The airship used hydrogen gas that burned out within about 90 seconds.
"If you do punch holes in it, it's just kind of going to leak out very slowly."
Kim recalled that in 1998 the Canadian air force sent up F-18 fighter jets to try and shoot down a rogue weather balloon, reported AFP.
"They fired a thousand 20-millimeter cannon rounds into it. And it still took six days before it finally came down. These are not things that explode or pop when you shoot at them."
He said it was not clear if using surface-to-air missiles would work, because their guidance systems are designed to hit fast-moving missiles and aircraft, reported AFP.
(With inputs from agencies)
Exciting news! Hindustan Times is now on WhatsApp Channels
Subscribe today by clicking the link and stay updated with the latest news!"
Click here!
Get Latest
World News
along with
Latest News
from
India
at Hindustan Times.