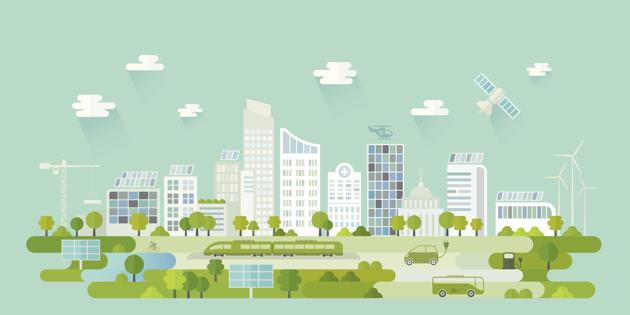 How the smart cities project is transforming India's urban governance
Every Smart City will have a Smart City Centre (SCC) (i.e. Integrated Command and Control Centre). The SCC functions as a city's nervous system where digital technologies are integrated with social, physical, and environmental aspects of the city, to enable centralised monitoring and decision making
By Hardeep S Puri
UPDATED ON JUL 04, 2018 05:34 PM IST
Nine months into my new job, it is clear to me that the popular perception of the Smart Cities Mission is still evolving and the absence of facts is giving rise to some misunderstanding. The narrative requires help; even those initiated have a somewhat flawed impression.
A point often missed is that 90 out of the 100 cities involve brownfield projects i.e. they involve redevelopment and retrofitting to existing areas.
A unique project, the Smart Cities Missions was launched by Prime Minister Narendra Modi on 25 June, 2015, to improve ease of living of citizens and create cities that are ahead of the curve in decision making and problem solving. For the first time, cities were selected through a competitive process for funding under a Government of India programme.
The programme design was based on comprehensive citizen engagement, leveraging the power of technology at our disposal.
Innovation and technological advancement has enabled individuals to connect with each other and their physical surroundings at an unprecedented level and scale. As a result, we are witnessing societal shifts, which, in turn, are affecting quality of life indicators. Klaus Schwab, the Executive Chairman of the World Economic Forum, predicts that in such a situation, "new technologies and platforms will increasingly enable citizens to engage with governments, voice their opinions, coordinate their efforts and even circumvent the supervision of public authorities". This phenomenon is embedded in the concept, design, and implementation of India's Smart Cities Mission.
Every Smart City will have a Smart City Centre (SCC) (i.e. Integrated Command and Control Centre). The SCC functions as a city's nervous system where digital technologies are integrated with social, physical, and environmental aspects of the city, to enable centralised monitoring and decision making. In the SCC architecture, Internet of Things (IoT) devices such as sensors, GPS equipments and cameras located at the front-end (trash bins, vehicles, streets, poles etc.) collect and transmit data through a communication network to a central facility. Applications then convert the data and information received into insights, which further facilitates a decision support system. The SCC thus enables real time monitoring and expeditious incident response management in city operations.
SCCs have already been set up in 10 cities with an approximate investment of Rs 1200 crore. These cities are Naya Raipur, Ahmedabad, Vadodara, Surat, Pune, Nagpur, Rajkot, Visakhapatnam, Kakinada, and Bhopal. Thirteen other cities have started work on setting up such centres; and another 32 are at an advanced stage of pre-work preparation.
The five areas in which the impact of SCCs is already being felt are enhanced quality of services, safety and resilience, inclusiveness in city operations, faster emergency response management, and environmental sustainability. These results are predicated on the use of IoT and Artificial Intelligence (AI) by the SCCs.
The results speak for themselves. In Rajkot, the crime rate has reduced by 18% over the past two quarters as on April 2018. There is also an improvement in traffic challans issuance, indicating behavioural change. Monitoring of cleaning work through CCTV camera has led to reduction in instances of littering, urination in public, and nighttime burning of garbage. In Kakinada, environment sensors have been deployed for automatic weather monitoring, air quality monitoring, and lightning detection.
Pune has installed flood sensors at key points around the city, which feed data to the SCC, enabling timely warning and response mechanism. Emergency callboxes have been installed at 120 locations to contact the nearest police station with just the press of a button. In Ahmedabad, free Wi-Fi on BRTS corridors has increased ridership by 20,000 in March 2018, compared to Feb 2018. In Vishakhapatnam, CCTV and GPS enabled buses are being tracked online. Bhopal has seen a rise in its property tax collections and is also able to track its transport services online.
In addition to improving urban livelihoods, the Smart Cities Mission has facilitated an ecosystem where technology companies along with engineering and construction firms are participating to develop SCCs. Leading international companies are working on these projects, but most of the system integrators are Indian entities. More importantly, the Mission's focus on innovative projects is a boost for the startup industry – it provides a fillip to the entrepreneurial spirit of urban residents, thereby increasing employment.
The efficacy of SCCs will improve with the integration of more and more services. Convergence with other city projects and breaking through the silos of various government departments is the ultimate aim. This will completely transform how urban governance is imagined and implemented.
Having said that, I am conscious of the fact that harnessing these opportunities and proactively improving the urban space will require a reform of the "enabling environment", which includes governance frameworks, policy protocols, capacities of urban local bodies, and the nature of citizen-government engagement. A beginning has been made, and I have no doubt that with the help of civil society, non-governmental organisations, academic institutions, industry, and, most importantly, the citizens of this country, we will transform the urban landscape of India.
Hardeep S Puri is Union minister of state (Independent Charge) for Housing and Urban Affairs
The views expressed are personal
Close