GST Council's 47th meeting, first of the year, begins in Chandigarh
Published on Jun 28, 2022 12:20 PM IST
A slew of key decision are likely to be taken at the 2-day conference, which will conclude on Wednesday.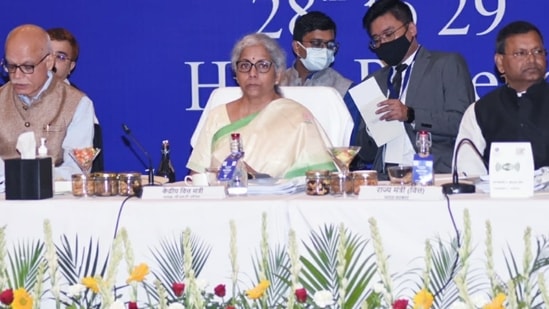 A 2-day conference of the GST Council began in Chandigarh on Tuesday, and is being chaired by Union finance minister Nirmala Sitharaman. Also present for the meeting are Minister of State for Finance, Pankaj Chaudhary, finance ministers from states and Union territories, and senior officers from the central government and states, the finance ministry said.
A slew of key decisions are expected to be taken by the finance minister and her counterparts from states and UTs. This includes discussions on mechanism for compensating states for revenue loss, tweaks in tax rates for some items, and relaxation in registration norms for small online suppliers.
Also Read | GST Council meet: States' compensation, tax tweaks on cards: 5 points
However, no change is expected in GST on mass consumption goods due to the Gujarat assembly elections, people familiar with the matter said. The elections will take place later this year.
Also Read | No change likely in GST on mass consumption goods
Meanwhile, the Chandigarh conference is the committee's first meeting this year, and also the first in six months; the previous meeting took place at the Vigyan Bhavan in New Delhi on December 31 last year.
The 47th meeting also comes just days before the fifth anniversary of the Goods and Services Tax (GST) regime, which was rolled out on July 1, 2017.