I welcome criticism. It helps me learn, says Mamata Banerjee. BJP's comeback follows
Jan 30, 2023 08:03 PM IST
The BJP said there were a large number of cases which reflect the "vindictive and intolerant attitude" of the Mamata Banerjee government
KOLKATA: West Bengal chief minister Mamata Banerjee on Monday said that she welcomed criticism because it gave her an opportunity to learn, prompting a stinging comeback from the opposition Bharatiya Janata Party (BJP) that reminded her about the Jadavpur professor who faced a criminal case for 11 years for forwarding a cartoon considered to be derogatory to Banerjee.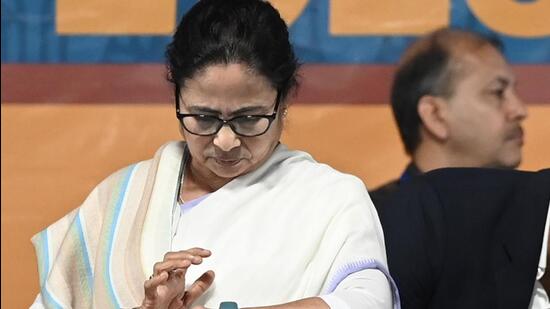 "I am not above criticism. I like it if someone criticises me because I may learn something. What can be better than this?" she said in course of her address at the opening of the 46th International Kolkata Book Fair (IKBF) on Monday.
The chief minister also said efforts were being made to muzzle the freedom of speech and fuel hatred and asked people to raise their voices to "protect democracy".
"We must raise our voice to protect democracy if need be. We must be aware of any bid to subvert our original history. Let us be united. We want peace and prosperity. We want to fight against poverty," she said.
The BJP, which was seen to be the target of her dig, was quick to hit back.
"One who sends the police to arrest a professor for forwarding a cartoon and describes a person as a Maoist for questioning her is now saying that she invites criticism. There are umpteen such cases which reflect her vindictive and intolerant attitude. These statements don't suit her," BJP leader Rahul Sinha said.
Sinha's reference to the professor comes days after a sessions court discharged Ambikesh Mahapatra, a chemistry professor at Jadavpur University, in a case registered against him in April 2012 after he forwarded an email that were alleged to contain derogatory cartoons of Banerjee and Trinamool Congress leader Mukul Roy, after he took over as railways minister to replace Dinesh Trivedi in the then Congress-led UPA government.
In her speech on Monday, Banerjee also proposed that the IKBF organisers also hold a book fair in Delhi. The state government would make arrangements and all the districts of West Bengal would participate, she said.
The chief minister also released her six books including a book on Kolkata's Durga Puja, an English translation of a collection of poems written by her in Bengali and 'Salute', a book on 100 women freedom fighters among others.
Banerjee said that while 128 of her books have already been published till the 2022 book fair and six more were being launched this year, four to five books were in the process and were likely to be published by next year's book fair.
"It is not my responsibility to keep a count. It is the publishers' responsibility. There isn't just one publisher," she added.
The book fair will continue from January 31 to February 12. The ninth edition of the Kolkata Literature Festival will take place at SBI Auditorium between February 9 and 11.