On renaming islands in Andaman, Mamata Banerjee takes a dig at PM Modi
Jan 23, 2023 09:21 PM IST
West Bengal chief minister Mamata Banerjee recalled that Netaji Subhas Chandra Bose conceptualized the Planning Commission to formulate plans for the country's future but it was dismantled
KOLKATA: West Bengal chief minister Mamata Banerjee on Monday took a swipe at Prime Minister Narendra Modi over the naming of islands in Andaman and Nicobar as she stepped up her attack against the Union government led by the Bharatiya Janata Party (BJP).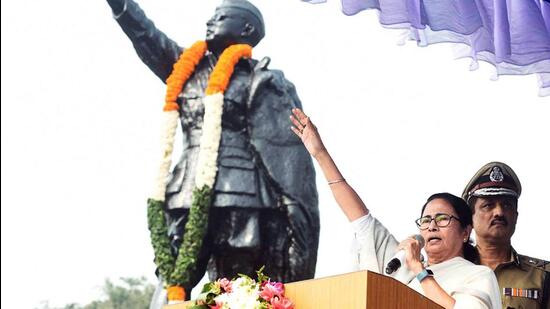 "Today, someone may take the credit while claiming that he has named Shaheed Dweep and Swaraj Dweep," Banerjee said at an event in Kolkata to celebrate the 126th birth anniversary of Netaji Subhas Chandra Bose. "But it is not so. Netaji did it long back when he went to visit the Cellular Jail."
On Monday, Modi named 21 islands in the Andaman and Nicobar archipelago after Param Vir Chakra awardees on the occasion of Parakram Diwas. In 2018, Ross Islands was renamed Netaji Subhash Chandra Bose Dweep by the Prime Minister. Neil Island and Havelock Island were renamed Shaheed Dweep and Swaraj Dweep.
"Netaji conceptualized the Planning Commission to formulate plans for the country's future. But unfortunately, it doesn't exist anymore. Today, there is no planning. Can anyone tell me why? I don't know why because maybe I have less brains. I would be obliged if anyone tells me. It can't be that one person will understand everything," she said, a reference to Netaji Subhas Chandra Bose's 1938 address at Maripura session of the Indian National Congress where he spoke about the need for a 'National Planning Commission'.
The Bengal BJP hit back at Banerjee. "There is no need for Prime Minister Modi to take credit by naming islands. One who is saying all these bears the DNA of the Congress," said Samik Bhattacharya, BJP spokesperson. "Does the Congress or those who have its DNA have any moral or political right to make such comments?"
The Trinamool Congress supremo also stepped up her attacks on the central government for sending teams to the state to probe allegations of corruption in centrally funded welfare schemes.
"Even for a cockroach bite a central team is sent to West Bengal. The Union government has sent more than 50 central teams to the state in the last few months," she said. "How many have been sent to Uttar Pradesh? West Bengal is being defamed at the drop of a hat."
"Today the country is helpless. We are somehow tackling it in West Bengal. You may not know that we have to face something or the other on all 365 days. But we know how to put up a fight," she added.
"Only a villager in West Bengal, who has been deprived of a house under the Pradhan Mantri Awas Yojana, or a job aspirant who has been cheated of a teacher's job in a state-run school, knows what he or she is facing every day," BJP's Bhattacharya said.
The chief minister also criticised the parole granted to expelled BJP leader Kuldeep Singh Sengar, who is serving a life sentence after being convicted of raping a teenage girl in Unnao in 2017.
"I have heard that the Unnao accused has been released on parole. I am not sure and I need to cross-check. I refused to sign (any) file to release any rape convict on parole. I was adamant," she said.