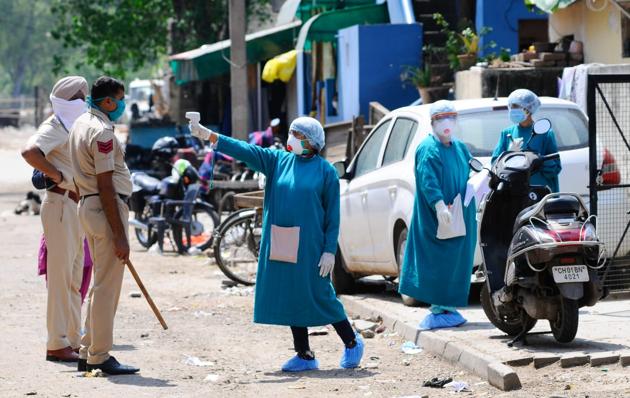 Six new Covid-19 cases in Chandigarh's Bapu Dham Colony, 91-year-old from Sector 15 also positive
74% of 289 positive cases in the Union Territory are from Bapu Dham Colony; city now has 96 active cases and the rest have been discharged
Hindustan Times, Chandigarh | By HT Correspondent
, Chandigarh
UPDATED ON MAY 29, 2020 03:24 AM IST
Seven new cases of Covid-19 surfaced on Thursday, increasing the city count to 289.
Out of the seven cases, six are from the containment zone of Bapu Dham Colony, while a Sector 15 woman was also confirmed infected.
The city currently has 96 active cases, while 189 have been discharged. Four people have succumbed to the virus.
With Thursday's new cases, the Covid count in the congested Bapu Dham has now reached 216, accounting for 74% of the city's cases.
The fresh cases comprise four males aged eight, 16, 17 and 53, and two girls aged 12 and 15. The patients are from two households in one building.
The first case in Bapu Dham was reported on April 24 when a hospital staffer of Government Medical College and Hospital, Sector 32, and resident of the colony was found infected. The colony has seen one Covid-19 death.
ELDERLY WOMAN WAS TO UNDERGO SURGERY
The Sector 15 resident is a 91-year-old woman, who was admitted to a private hospital in Mohali for a surgery, and tested positive for the virus before it.
"The woman had suffered a fracture in the neck of the femur. She tested positive before the surgery," health officials said.
This is the second such case from the sector where the source of infection is unknown. Earlier, a 67-year-old man with no contact history with a positive person was found infected on May 1. He has since been discharged.
Five family members of the elderly woman have been quarantined, and three of them have been sampled at Government Multi-Specialty Hospital (GMSH) in Sector 16, Chandigarh.
TWO DISCHARGED
Chandigarh on Thursday recorded two more recoveries with a 24-year-old health worker from GMSH and a 35-year-old man from Sector 7 being discharged from hospitals.
UT's recovery rate stands at 65% against the national recovery rate of 42.7%, while the fatality rate is 1.3% against the national average of 2.8%.
Close