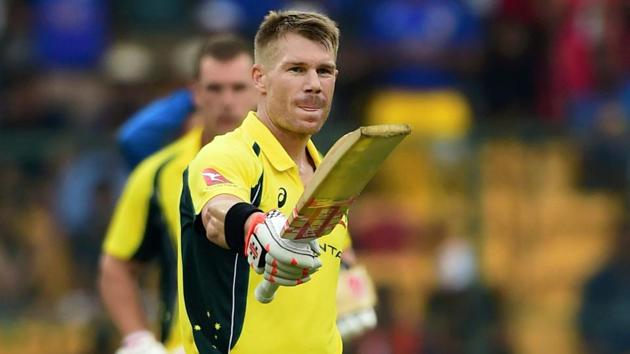 Australian cricket team star David Warner eyes career in politics
David Warner, Australian cricket team opener, has expressed willingness to make a difference in politics once he retires from cricket
Hindustan Times, Mumbai | By Ankit Kumar Singh
PUBLISHED ON FEB 27, 2018 06:51 PM IST
Australian cricket team opener David Warner has hinted at possible a career in politics after he retires from international cricket.
"After cricket, I wouldn't mind doing something," Warner said in The Final Word podcast.
Of late, Warner has displayed stand out leadership quality both on and off the field. Apart from leading Australia to Trans-Tasman T20 Tri-Series title in the absence of regular captain Steve Smith just a week ago, he also played an influential role in resolving the pay dispute between Cricket Australia and the Australian Cricketers' Association a few months back.
Warner now believes that he can show the same penchant in politics too.
"I just like having responsibility and if there is anything that I can do to help anyone, whether it is here at the cricket or even if it is down at the beach or something. If it is something that I can help with and someone needs help, then it is something I'll be hand up for. That's just the person that I am," he said.
He also highlighted as to how his upbringing prepared him to care for everyone.
"One thing that has been embedded in me since a young age is that I grew up in a housing commission. As a kid, I had to do everything at home with my brother just because my parents worked all the time. So whether it was dishes, ironing - all the normal things you do at home.
"Once I was able to go and work, I went and worked because we needed that money coming in to pay the bills. Me and my brother both paid a bit of rent when we were younger and I just liked looking out for anyone who (was) close to me."
Speaking about his role in resolving pay dispute he said that it was important to take a stand and that is what he did.
"During the dispute, it was a tough situation, you had your employers who were going up against our union and the players. So, I thought I needed to have a stance somewhere because at the end of the day, I want to play cricket for my country but for us to get a result or something in the middle - a happy medium - we had to fight for that. I am a believer in what I believe in. So, that was our belief, to get what we wanted," he said.
Close