India vs New Zealand, Women's T20 World Cup: Shafali, bowlers fire India into semis with four-run win
Feb 27, 2020 12:51 PM IST
India Women vs New Zealand Women, Women's T20 World Cup: Catch all the highlights of India Women vs New Zealand Women match at the T20 World Cup.
India vs New Zealand as it happened: Amelia Kerr's heroics went in vain as India edged New Zealand by 4 runs to record their third successive victory of the tournament. Five bowlers picked one wicket each as India got over the line in thrilling fashion. Earlier, Amelia Kerr and Rosemary Mair scalped two wickets each as New Zealand restricted India to 133/8 in 20 overs. Shafali Verma top-scored for India with 46 while Taniya Bhatia hit a handy 26. This after New Zealand captain Sophie Devine won the toss and elected to field against India in their Group A game at the Junction Oval. India made two changes to their playing XI which featured against Bangladesh - Smriti Mandhana and Radha Yadav came in place for Arundhati Reddy and Richa Ghosh.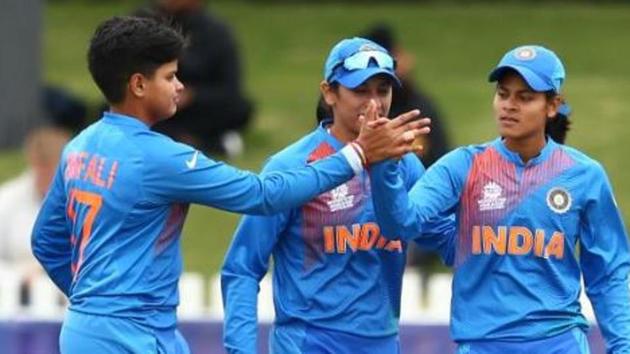 Ind vs NZ Highlights:
12:24 hrs: Match ends! Shikha Pandey managed to hold her nerves as she helps India record a thrilling four-run win. 11 runs came from the last over but NZ need 16 to win. India have now won three on the bounce in the tournament.
12:19 hrs: Kerr goes berserk! Amelia Kerr breathes life into the match as he hits 18 runs off the penultimate over from Poonam Yadav. Four boundaries and a double means Kiwis are right back into the game.
12:14 hrs: Run-out chance! Deepti Sharma had a chance to effect a run-out but somehow she missed the stumps from just few inches away. 100 up for NZ in the 18th over and they need few big hits in the final two overs to get closer to the target.
12:09 hrs: OUT! Radha Yadav picks her first wicket of the innings as she gets rid of Katey Martin for 25. The batter went after the ball and ended up giving an easy catch to Jemimah Rodrigues at deep mid wicket.
12:05 hrs: New Zealand won't go down without a fight as Amelia Kerr hits Deepti Sharma for a boundary towards point region. Seven runs came from that over as NZ need 48 off 24 deliveries.
12:00 hrs: OUT! New Zealand have lost their fourth wicket of the innings as Rajeshwari Gayakwad gets rid of Maddy Green for 24. She came down the track but missed the stumps and was easily stumped by Taniya Bhatia.
11:55 hrs: Good over for India as Shikha Pandey gives away just 6 runs off it. The partnership between Green and Martin stands at 43 off 35 deliveries. Kiwis need 57 off the last 6 overs.
11:50 hrs: First six of the innings! Maddy Green comes dancing down the track and hits Radha Yadav for a huge six over long on. 10 runs from that over from Yadav as Kiwis now need 69 off 48 deliveries.
11:45 hrs: Fifty up for Kiwis! New Zealand have crossed the 50-run mark in the 11th over. They need 84 off 57 deliveries with seven wickets in hand. The batters will have to get a move on sooner than later in order to trouble the scorers.
11:40 hrs: New Zealand need a partnership to get out of trouble. They have lost three top-order batters and the onus will be on Katey Martin and Maddy Green to steady the ship and help them get closer to the target.
11:35 hrs: OUT! Poonam Yadav gets into the act as she gets rid of Sophie Devine for 14. New Zealand have now lost their third wicket of the innings they are in spot of bother in the chase.
11:28 hrs: OUT! India have picked their second wicket of the innings as Deepti Sharma gets rid of Suzie Bates for 6. She went across the stumps and somehow manages to hit the ball onto the middle stump.
11:23 hrs: Another good over for India as Shikha Pandey concedes just four runs off her second over. Kiwis current run rate is hovering around five while their required rate has gone till 7.
11:18 hrs: Skipper Sophie Devine makes her presence felt as she hits her first boundary of the innings off Rajeshwari Gayakwad. Five runs came from the third over as Kiwis look to regroup are early blow.
11:13 hrs: OUT! First wicket of the innings for India as Shikha Pandey gets rid of Rachel Priest for 12. The right-hander top-edged the ball into hands of Radha Yadav at mid-wicket.
11:09 hrs: Expensive first over from Deepti Sharma as she concedes 12 runs off it. Two doubles sandwiched between couple of boundaries from Rachel Priest as Kiwis are off to a flying start in the chase.
11:04 hrs: Rachel Priest and Sophie Devine are opening the innings for Kiwis as they chase 134 to win. Spinner Deepti Sharma will bowl the first over for India.
10:59 hrs: Indian players are back on the pitch as they look to defend this fighting total. They need early wickets to put pressure on the Kiwis, who will feel they are on a comfortable position in the match.
10:53 hrs: Innings over! Radha Yadav hits a boundary on penultimate ball of the innings to take India's score past 130. She was run out off the last ball as India finished at 133/8 in 20 overs.
10:48 hrs: India have not scored a boundary in the last 22 balls and that has kept their score well under 150 with just one over to go. India will hope Shikha Pandey and Radha Yadav hit a few out of the park to take them to a competitive score.
10:43 hrs: OUT! India are seven down now as skipper Sophie Devine picks the wicket of Deepti Sharma for 8. The southpaw hit the ball straight to Hayley Jensen at mid wicket, who completed an easy catch.
10:39 hrs: Three overs are left in the innings and India will hope they get as close as possible to 150. In the last four overs they have scored just 18 runs and lost 2 wickets so it won't be easy.
10:34 hrs: OUT! This is simply sensational from the Kiwis as they continue to pick wickets. Amelia Kerr takes the help of DRS to reverse the decision as Veda Krishnamurthy is adjudged LBW for 6. India are six down now.
10:30 hrs: OUT! India have now lost half their side as Shafali Verma heads back into the hut for 46. Amelia Kerr bowled a slower one and Shafali hit the ball into hands of Hayley Jensen at long off. This is the third wickets that India have lost in last 15 runs.
10:25 hrs: OUT! Indian batters are falling like nine pins as skipper Harmanpreet Kaur is the latest to head back into the hut. The right hander hits the ball into the hand of bowler Leigh Kasperek. India have lost their fourth wicket inside 100.
10: 20 hrs: OUT! India have lost their third wicket of the innings as Jemimah Rodrigues departs for 10. She tried to flick the ball on the onside off Rosemary Mair but top-edged the ball into hands of Amelia Kerr at point.
10:15 hrs: Dropped! New Zealand are giving Shafali chances to score big as she has been dropped for the second time today. She hit the ball straight into the hands of Tahuhu at mid on but somehow she put the ball down.
10:11 hrs: OUT! Rosemary Mair picks the second wicket of the innings as she gets rid of Taniya Bhatia. She hit the ball straight into the hands of Amelia Kerr at point. Taniya departs for 23.
10:07 hrs: Fifty partnership! Shafali Verma cuts Amelia Kerr for a boundary past point fielder and with that the fifty run partnership also comes up between the two batswomen off 39 deliveries.
10:03 hrs: Dropped chance! New Zealand should have picked their second wicket of the innings the chance is squandered by Green at long-on. Shafali gets a lifeline and that doesn't bode well for the Kiwis.
09:58 hrs: Taniya Bhatia is keeping up pace with Shafali Verma as she hits her third boundary of the innings off Hayley Jensen. India have also gone past the 50-run mark.
09:53 hrs: SIX and SIX! Shafali Verma takes the attack to Anna Peterson who concedes 13 runs in his first over. It was a good over until the last two deliveries, both of which were hit down the ground for big sixes.
09:48 hrs: Since the dismissal of Mandhana, Indian duo Shafali and Taniya have hot one boundary each to continue the momentum. India are currently scoring in excess of 7 runs per over and that's a good sign for them.
09:43 hrs: OUT! Lea Tahuhu has picked the first wicket of the match as she gets rid of dangerous Smriti Mandhana. The southpaw poked at a full delivery outside off and it took an inside edge and crashed into the stumps. Taniya Bhatia joins Shafali Verma in the middle.
09:40 hrs: Four and four! Mandhana and Shafali hit one boundary each off Rosemary Mair's first over of the innings as India rake in 10 runs off the over. These are ominous signs for the Kiws and they need a wicket soon.
09:35 hrs: First four of the match! Tahuhu bowls a bit short and wide and Mandhana plays the ball on the up for a boundary towards extra cover. 5 runs came for India in the first over.
09:30 hrs: Smriti Mandhana and Shafali Verma will open the innings for India and they will be looking for a good start in these windy conditions. Lea Tahuhu will bowl the first over for the Kiwis.
09:23 hrs: The players are making their way out in the middle for their respective national anthems. Just a recap, India will bat first after New Zealand won the toss and elected to field first.
09:16 hrs: India have won both their contests so far and are currently at the top of their group. New Zealand have played one and won one and are hot on India's heels. A win today will guarantee India's place in the semis.
9:10 hrs: Teams -
New Zealand Women (Playing XI): Sophie Devine(c), Rachel Priest(w), Suzie Bates, Maddy Green, Katey Martin, Amelia Kerr, Hayley Jensen, Anna Peterson, Leigh Kasperek, Lea Tahuhu, Rosemary Mair
India Women (Playing XI): Smriti Mandhana, Shafali Verma, Taniya Bhatia(w), Jemimah Rodrigues, Harmanpreet Kaur(c), Deepti Sharma, Veda Krishnamurthy, Shikha Pandey, Radha Yadav, Poonam Yadav, Rajeshwari Gayakwad
9:05 hrs: Harmanpreet Kaur: We wanted to bat only. We have two changes today. Smriti and Radha come in for Arundhati and Richa. We are doing well in patches, we need to do well in batting. We will try to give our best today. I did struggle in the last two games but wil give my best in this game.
9:04 hrs: New Zealand will field first in Melbourne.
8:55 hrs: India have looked dominant in the two games played in the tournament so far and they would look to continue this unbeaten run against a formidable New Zealand side.