Govt, army in talks over Srinagar medical college
Mar 18, 2018 08:25 PM IST
The army cannot take over the administration of Government Medical College (GMC), Srinagar, in the present form and talks are on with the state government on the issue, army chief General Bipin Rawat said in Dehradun on Sunday
The army cannot take over the administration of Government Medical College (GMC), Srinagar, in the present form and talks are on with the state government on the issue, army chief General Bipin Rawat said here on Sunday.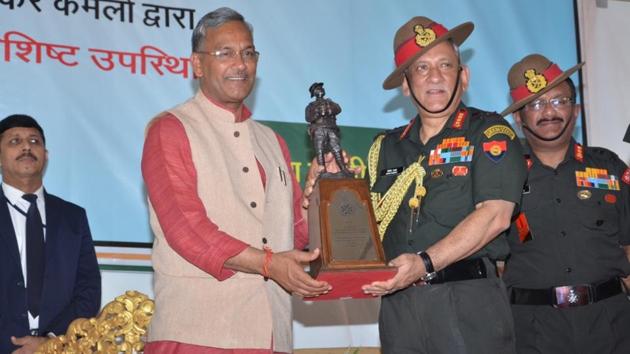 "The proposal is being deliberated upon. Army cannot take over the hospital's administration in the present form. Some changes need to be made. We are in talks with the state government on this issue and things will be worked out," said General Rawat.
Last year, the state government approached the army to take over the administration of GMC in Srinagar, stating that this will boost the quality of medical facilities in the region.
The move, however, could not be materialised as the Centre did not show much interest in it. Recently, chief minister Trivendra Singh Rawat said he will again pursue the proposal and hold fresh talks with the army chief and the Centre on this.
General Rawat was in Dehradun to attend inauguration of Garhwal Rifles War Memorial Boys and Girls Hostel. The facility was inaugurated by the chief minister. Former CM Maj Gen BC Khanduri (retd) also attended the event.
Since 1980, the Garhwal Rifles was running a hostel at its regimental centre in Lansdowne. However, to provide better exposure, the regiment decided to establish a hostel in Dehradun.
The hostel has been constructed on a 4.3 acre campus at a cost of ₹10.28 crore. It will house 125 boys and 125 girls from Classes 5 to 12.
Besides boarding and lodging, the hostel will also provide bus facilities for conveyance to schools, in-house medical facility, audio visual room, computer lab, library, sports facilities, coaching and career counselling.
Speaking about the hostel, the army chief said: "I am sure this hostel will benefit the children of our war widows, veterans and serving soldiers who come from remote areas in Uttarakhand.
"Since it is located in Dehradun, a city that has good facilities for quality education, I am sure the children will be able to gain maximum out of it."
He said other regiments of the army should take this as a model and follow suit by establishing such hostels to help families of soldiers from remote areas in Himachal Pradesh, Arunachal Pradesh, Manipur and elsewhere.
In his address, the chief minister said the government was planning to set up a similar hostel in Haldwani.
"Like Dehradun, Haldwani is another city in the state where many veterans live. It also has facilities for education. If the army agrees, we would like to establish a similar hostel in Haldwani."
He said the state government has recently extended a help of ₹2 crore for renovation of basic infrastructure in Sainik School Ghorakhal.
"We also want to rope in ex-servicemen and use their experience and expertise to develop the 670 nyay panchyats as economic growth centres."
To ensure the hostel is self sufficient, a corpus fund is being establish with contribution from serving and retired soldiers.
Vice-chief of the army Lt Gen Sarath Chand said, "All 26 battalions of Garhwal Rifles have contributed ₹3 lakh each to the fund. We have also requested all serving officers of the regiment to contribute ₹10,000 and six veterans have donated ₹1 lakh each for this. The state government recently donated ₹2 crore for the hostel."