Two Iftars, two approaches towards minorities
The Congress and the BJP are engaging differently with minorities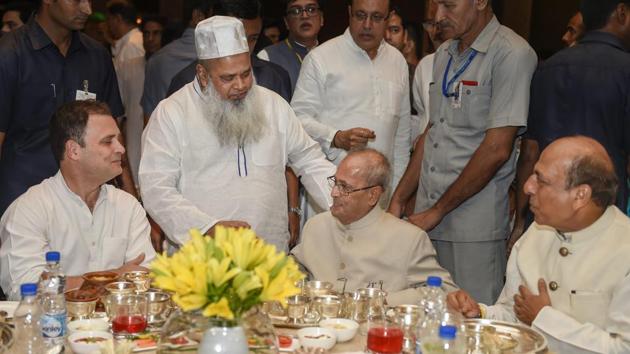 Updated on Jun 15, 2018 09:58 AM IST
Iftar politics has returned in a big way to Delhi this season. Congress president Rahul Gandhi hosted an Iftar on Wednesday that also became a part of the continued exercise in Opposition unity. The presence of Pranab Mukherjee, days after his appearance at a Rashtriya Swayamsevak Sangh (RSS) event, generated attention. On the same day, Union minority affairs minister Mukhtar Abbas Naqvi became the only member of the government to host an Iftar -- but with a specific guest list revolving around Muslim women, especially those who have been the victims of triple talaq. In the two Iftars was both a common thread and the contrasting approach that exists between the two leading political formations in the country in their approach to minority communities, particularly Muslims.
What is common is this. For Indian political parties, it is easier to mobilise broad social groups -- be it a religious or a caste group -- than appeal to the individual citizen. This means that identity politics is inevitable. The only question is which identity-based groups a party seeks to cultivate. Symbolic as it may have been, the fact that Delhi was a site of scores of political Iftars during the rule of Congress or Third Front governments of socialist parties was a sign that these parties saw Muslims as an important constituency of support. The fact that the current Bhatratiya Janata Party (BJP)-led government has consciously stayed away from the practice of Iftars indicated both its ideological stance that "secularism" was reduced to wooing Muslims, and showed that its own constituency of support was almost entirely non-Muslim.
Even in Wednesday's Iftars, this basic variance was visible. For the Congress, the exercise was important for two reasons. One, as Rahul Gandhi increasingly practices the politics of Hindu symbolism by visiting temples, it was important for the party to send a symbolic signal to minorities that they remain crucial in the Congress's calculus and the party's commitment to secularism remains deep. Two, it was an opportunity to bring prospective allies -- all of whom have Muslim social constituencies -- on the same table, soon after Karnataka elections. The party would be a tad disappointed that many top regional leaders did not come but the underlying message was there. For the BJP, the Iftar had a different relevance. By catering primarily to Muslim women, it wanted to position itself as being more interested in reform within the community than mere "appeasement" -- the charge it has hurled at Congress over the years. The political subtext is that BJP hopes to get at least a fraction of votes of Muslim women, though this has not really happened on the ground yet. The Iftars thus symbolised the permanence of identity politics, yet the difference in how parties approach different identity groups, especially Muslims.
Close Story