ASER 2022 finds sharp drop in children's reading ability
Jan 19, 2023 04:32 AM IST
The report details for the first time how the Covid-19 pandemic affected learning among schoolchildren.
New Delhi: The basic ability of young children to read text dropped to the lowest level since 2012, and for them to complete arithmetic problems to levels last seen in 2014, the latest Annual State of Education Report (ASER) has found, detailing for the first time how the Covid-19 pandemic affected learning among schoolchildren.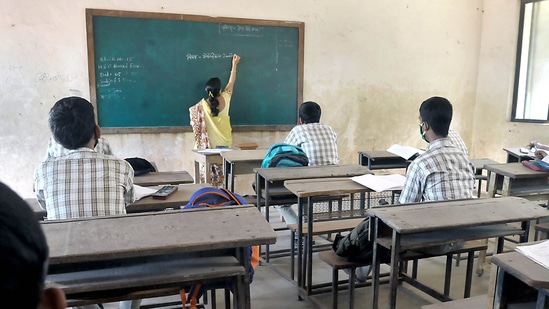 The report — the survey is usually done once in two years — this year offers the first comparison of learning outcomes from a pre-pandemic period (2018) with how students fared after the two years of heavy Covid-19-related disruptions, which led to education moving online and out of reach for many with limited financial resources.
Stay tuned with breaking news on HT Channel on Facebook.
Join Now
"Nationally, children's basic reading ability has dropped to pre-2012 levels, reversing the slow improvement achieved in the intervening years," said the report, released on Wednesday.
The assessment, by Pratham Foundation, covers children the in age group of 5-16 years, enrolled in both government and private schools across the country. In all groups, there was a sharp drop in learning levels.
The last routine assessment, in 2020, was not done in a regular manner due to the pandemic and the foundation released a report in 2021 looking at some of the other aspects it covers. The 2021 report was notable for finding that the pandemic appeared to have led to a large shift in students form private schools to government-run institutions.
For the latest study, close to 700,000 children from 374,544 households in 19,060 villages across 616 districts were covered in field visits.
The 2022 assessment found that the overall enrolment in schools across the country increased at all levels compared to 2018, with 98.4% in the age group of 6-14 years currently enrolled, compared to 97.2% four years ago.
The report also highlighted a decrease in the proportion of out-of-school girls across the country, and a sharp increase of 7.1 percentage points in the number of children enrolled in pre-primary age groups in 2022, in comparison to 2018.
According to the report, the percentage of Class 3 students in both government and private schools who can read text given to second graders dropped from 27.3% in 2018 to 20.5% in 2022. The last time this proportion was close to this low was in 2012, at 21.5%.
For basic calculations, third graders who could solve a math question given to second graders dropped to 25.9% from 28.2%. This number was 25.4% in 2016, the last time the proportion was lower.
Among the states showing a decline of more than 10 percentage points in basic reading abilities, from 2018 levels, were Kerala (from 52.1% in 2018 to 38.7% in 2022), Himachal Pradesh (from 47.7% to 28.4%), and Haryana (from 46.4% to 31.5%). Large drops were also visible in Andhra Pradesh (from 22.6% to 10.3%) and Telangana (from 18.1% to 5.2%), the report highlighted.
The ASER reading test assesses whether a child can read letters, words, a simple paragraph of first grade level or a story of second grade level of difficulty.
In the case of fifth graders, the proportion of children who could at least read Class 2-level text fell from 50.5% in 2018 to 42.8% in 2022.
States where this indicator held steady or improved marginally included Bihar, Odisha, Manipur, and Jharkhand. States showing a decrease of at least 15 percentage points or more included Andhra Pradesh (from 59.7% in 2018 to 36.3% in 2022), Gujarat (from 53.8% to 34.2%), and Himachal Pradesh (from 76.9% to 61.3%), the report said.
In Class 8, the drop in basic reading ability was lower when compared to the younger students. "Nationally, 69.6% of children enrolled in class eighth in government or private schools can read at least basic text in 2022, falling from 73% in 2018," the report stated.
Terming the drop in reading abilities as "huge", director of ASER Centre, Wilima Wadhwa said: "This fall is a huge drop, given how slowly the all-India numbers move, and confirms fears of large learning losses caused by the pandemic."
The report painted a slightly better, but worrying nonetheless, picture of how arithmetic problem-solving skills had suffered. For instance, children in Class 3 who are able to at least do subtraction dropped from 28.2% in 2018 to 25.9% in 2022. Similarly, the number of children in Class 5 across India who can do division also fell, from 27.9% in 2018 to 25.6% in 2022.
The report called for a "greater need for recovery" in reading as compared to arithmetic. "Clearly, the pandemic has resulted in learning loss. However, what the ASER 2022 figures seem to suggest is that the loss is much greater in reading as compared to arithmetic," Wadhwa said
Educationist Meeta Sengupta said the larger impact on reading skills than on arithmetic ability demonstrated that schools were a major contributor to reading learning. "This is put in sharper focus by the smaller drop in Arithmetic - where it seems community learning offers some support, or at least more support than for reading," she said.
In terms of English reading skills, the report highlighted that only one out of four children in Class 5 and almost half the children in Class 3 in India could read simple English sentences, with more such students being found in private schools as compared to government school.
"Out of those who can read sentences, 62.3% can comprehend their meanings… Massive variations can be seen by state, with many northern and north-eastern states performing better than others," the report highlighted.
Like its 2021 report, the ASER 2022 report also highlighted an increase in enrolment in government schools amid the Covid-19 pandemic. "The proportion of children (age 6 to 14) enrolled in government schools increased sharply from 65.6% in 2018 to 72.9% in 2022. Increase in government school enrolment is visible in almost every state in the country," the report stated.
Rukmini Banerjee, CEO of Pratham Foundation, said the rise in government school enrolment can be attributed to several possible contributing factors. "If family income goes down or becomes more uncertain, it is likely that parents may not be able to afford private school fees. Hence, they are likely to pull their children out of private schools and put them in government schools, where at least until the end of the compulsory stage, education is free (till Grade 8)."
She added: "Besides, in rural areas, most private schools are of the low cost or "budget" variety. Many such schools had to shut down during Covid because it was not economically viable to retain the staff."
Highlighting the increase in enrolment of girls in schools, the report stated that the all-India figure for the percentage of girls aged 11-14 who were out of school stood at 2% in 2022, a sharp improvement from 2018 when the figure was 4.1%. "This figure is around 4% only in Uttar Pradesh and is lower in all other states," the report said.
The decrease in the proportion of girls not enrolled in school was even sharper among older girls in the 15-16 age group. "In 2008, nationally, more than 20% of girls in the 15-16 age group were not enrolled in school. Ten years later, in 2018, this figure had decreased to 13.5%. The proportion of 15-16-year-old girls not enrolled has continued to drop, standing at 7.9% in 2022," it added.
Only three states had more than 10% of girls in this age group out of school including Madhya Pradesh (17%), Uttar Pradesh (15%), and Chhattisgarh (11.2%).
"This evidence indicates that at least as far as school enrolment is concerned, the pandemic-induced school closures did not lead to widespread drop-out for either girls or boys older than ten, or even for those older than fourteen. Across all age groups, for boys and girls, school enrolment has actually gone up between 2018 and 2022," the report said.