Assam's NRC draft makes neighbouring states jittery about illegal immigrants
Updated on Aug 03, 2018 01:58 PM IST
The NRC draft, which seeks to prove citizenship and weed out illegal immigrants, didn't include names of over 40 lakh of the total 3.29 crore residents of the state who had applied for inclusion.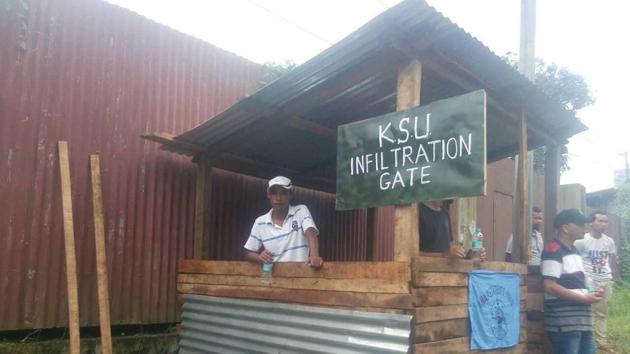 Illegal immigration is an emotive issue in India's northeast and the publication of the complete draft of Assam's National Register of Citizens (NRC) has reinforced the fear of the outsider in the entire region.
The NRC draft, which seeks to prove citizenship and weed out illegal immigrants, didn't include names of over 40 lakh of the total 3.29 crore residents of the state who had applied for inclusion.
The final list will be released at a later date once all claims and objections of those left out are settled, but states in the region bordering Assam are already jittery about the possible fallout.
Arunachal Pradesh
All Arunachal Pradesh Students Union (AAPSU), the state's apex student body, on Thursday issued a 15-day ultimatum to people who are not Arunachal Pradesh Scheduled Tribe residents without valid documents to leave the state by August 16.
Indian citizens need to have an inner line permit (ILP) to visit or stay in the state, which borders China, and foreigners need to have a restricted area permit (RAP).
Wary about the presence of illegal migrants in Arunachal Pradesh following the publication of NRC complete draft on Monday, the student body will launch an 'Operative Clean Drive' from August 17 against Indians and foreigners staying in the state illegally.
"We surveyed the border areas of the state and found that nearly 50,000 people, many whose names didn't appear in the NRC first draft released on December 31 last year, have entered illegally in the past three to four months," said Tatung Taga, AAPSU convenor.
"Since there are restrictions for entry into our state and presence of illegal migrants could create law and order problems, we are requesting them to either get ILPs before the deadline or leave Arunachal Pradesh," he added.
Manipur
The BJP-led government in the state constituted two committees, at the state and districts levels, on Thursday to monitor the entry or presence of illegal immigrants in the state following the publication of the final draft of NRC for Assam.
Chief minister N Biren Singh informed in a hurriedly called press conference that the committees will initiate steps for verification of illegal immigrants in the state with immediate effect.
"The state government has also opened a police check post at Imphal airport since Monday to prevent entry of illegal migrants. Similar steps have also been taken at entry points like Jiribam, Mao and Tamenglong railhead," Singh said.
Nagaland
Likewise, the home department in neighbouring Nagaland has issued an advisory to municipal, town and village committees to keep a tab on the entry of people from outside the state following the NRC draft publication.
Since there are restrictions on entry to Nagaland, similar to Arunachal Pradesh, the government wants residents to promptly notify the district and police administration about "unusual influx of outsiders".
The state's Nationalist Democratic Progressive Party-led government, of which Bharatiya Janata Party is also a part, is thinking of conducting an NRC for the state as illegal migrants are becoming a major issue.
Similar demands to conduct NRC of residents are also coming from Tripura and Meghalaya.
Meghalaya
In Meghalaya, a delegation of Khasi Students Union (KSU) met deputy chief minister Prestone Tynsong on Wednesday and sought an NRC like exercise for the state to protect the rights of the indigenous tribes.
On Tuesday, a day after the NRC draft was made public, KSU activists set up three check gates at areas bordering Assam to detect illegal immigrants and prevent their entry to the state.
Reports say nearly 1,000 people with "questionable antecedents" were detected. The check gates have since been dismantled, but the administration is maintaining strict vigil at border points against infiltrators.
Tripura
In Tripura, while chief minister Biplab Deb has ruled out the need for NRC, the BJP-led government's ally, Indigenous Peoples Front of Tripura (IPFT), wants such an exercise to be conducted.
"We observe August 23 every year as the day to reiterate our demand for a separate Tipraland. This year, at a grand rally to mark the day at Khumulwung, we will also press for NRC in our state," IPFT vice-president Ananta Debbarma said while speaking to the Hindustan Times.
Significantly, North East Students Organisation (NESO), the region's biggest student body wants NRC to be extended to all states in the northeast.
"We desire that NRC should be extended to all northeastern states. We have seen the quantum of the problem in Assam and this should not spill over to other states," NESO chairperson Samuel Jyrwa said while speaking to HT.
(With inputs from David Laitphlang in Shillong, Sobhapati Samom in Imphal and Priyanka Deb Barman in Agartala)
Close Story
Personalise your news feed. Follow trending topics