On DMK leader's 'go to Kashmir' remark for Guv, BJP lashes out: 'Inaction….'
Updated on Jan 14, 2023 07:27 PM IST
The rift between the BJP and the DMK is widening amid row over remarks on Governor R.N. Ravi.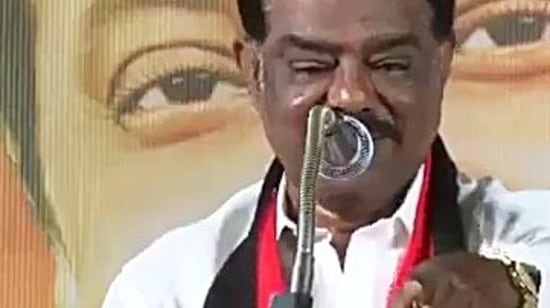 The Tamil Nadu unit of the BJP has written to the state's top cop - Dr. C. Sylendra Babu - raising objections to remarks by DMK leader Shivaji Krishnamoorthy against Governor RN Ravi. Shivaji Krishnamoorthy's comments have sparked a fresh controversy days after rift became public between the MK Stalin government and the Governor. "We look forward to some stern action to ensure the Public stage is not used to spread filth, like how DMK men continue to use it for a long. We wish to convey that the police inaction on such public slander would mean endorsement of the view," wrote the Tamil Nadu BJP in a tweet as it shared the letter to the top cop.
Calling Krishnamoorthy "a renowned DMK abuser", the party said he made "unpardonable" remarks in his speech. "We hope the Police do not turn a blind eye again and request that you kindly reprimand Shivaji Krishnamurthy for abusing the Constitutional head of the State. His remarks must not be construed as Freedom of expression as we are sure the police would not deem it that way if the same derogatory language were directed towards the Chief Minister of the State," Tamil Nadu BJP chief K Annamalai wrote in the letter, which also mentioned "derogatory comments against BJP women" by Thiru Saidai Sadhik. It also accused two party workers of sexual abuse.
Krishnamoorthy is under fire from the opposition after he lashed out at the Governor for not reading out a speech in the assembly. "If you (Governor) do not read out the speech given by the Tamil Nadu government, then go to Kashmir, and we will send terrorists so that they'll gun you down," he said on Friday. This was after Chief Minister MK Stalin had accused Governor Ravi of "delivering a speech that was extempore and deviated from the approved text" earlier this week.
Actor-politician Khushbu Sundar also slammed the ruling party for the comments. "I am not surprised at all. This is the new culture under CM @mkstalin. I pity the man in the grave who left behind a legacy. I am sure he will be churning in his grave. Such men do not deserve to be on a public platform. They insult their upbringing & their mother. Appalling. (sic)," the BJP leader tweeted on Saturday.
Among others who reacted were Tamil Nadu BJP unit vice president Narayana Thirupathy. The DMK leader have been using foul and filthy language for the last 60 years, he was quoted as saying by news agency ANI, as he wondered if the ruling party has "any links with terrorists."
(With inputs from ANI)
Topics