Centre to import 450,000 vials of Remdesivir; first consignment expected today
Apr 30, 2021 03:57 PM IST
The first batch is of 75,000 vials while another 375,000 are scheduled to be imported before July, even as the Centre ramps up its domestic production from 3.8 million vials a month to over 10 million monthly
The Centre said it will start importing Remdesivir from Friday even as its domestic production has been ramped up from 3.8 million vials a month to over 10 million monthly with the surge in Covid-19 cases triggering a shortage and scramble for the antiviral drug used to treat the disease. The first batch of 75,000 vials was expected on Friday and another 375,000 were scheduled to be imported before July.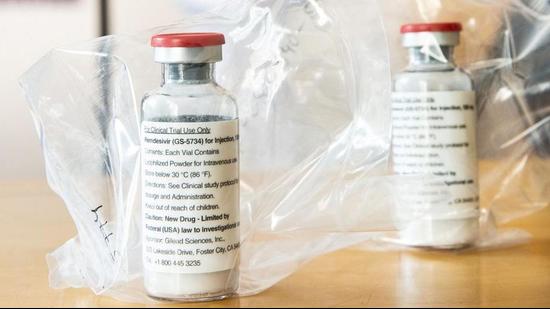 Remdesivir is one of the investigational drugs prescribed under restricted emergency use for treating Covid-19 patients in India. The World Health Organisation has said there is no evidence that the drug reduces mortality or obviates the need for ventilation among hospitalised patients. It has, however, been found to help those in the early stages of the infection.
Stay tuned with breaking news on HT Channel on Facebook.
Join Now
Also Read | Delhi's fake Remdesivir injection racket: Two more arrested in Uttarakhand
"HLL Lifecare Ltd, a government-owned company, has ordered 450,000 vials of Remedesivir. It is expected that Gilead Sciences Inc. USA will dispatch 75,000 to 100,000 vials in the next one or two days. Further, one hundred thousand quantities will also be supplied by May 15. Egypt-based EVA pharma will also supply almost 10,000 vials initially followed by 50,000 vials every 15 days or till July," Union chemicals and fertilisers' ministry said in a statement.
"The daily supply of Remedesivir has gone up from 67,900 vials on 11th April to 2.09 lakh vials on 28th April 2021," the government said in an advisory issued to states and Union Territories for the transportation of Remdesivir supplies.
The government on April 11 put a moratorium on the export of the medicine to boost its availability in India. Its price was earlier capped at ₹3,500 per vial on April 17. The drug has been exempted from customs duties till October 31 along with Beta-cyclodextrin, an important component used in its manufacturing.
Gilead Sciences on Tuesday announced it will donate 450,000 vials of Remdesivir to India and provide its voluntary licensing partners in the country with technical assistance to rapidly scale up the production of the drug.
The surge of Covid-19 cases has overwhelmed hospitals and triggered a shortage of medicines and other critical supplies.
Gilead Sciences has seven licensing partners in India, and they have significantly accelerated production of Remdesivir by scaling up their batch sizes, adding new manufacturing facilities and/or onboarding local contract manufacturers across the country.
Randeep Guleria, the director of New Delhi's All India Institute of Medical Sciences this week cited a US study and added it was shown that if given to moderate to severe patients, there is a chance hospital stay will reduce somewhat. "Therefore, stable patients who are in home isolation, with oxygen saturation of 94% and above, do not require Remdesivir. If mild cases take Remdesivir, then there is a chance of more harm than good. It is no magic bullet and should be given only to hospitalised patients."