KR Gouri, architect of land reforms in Kerala, dies aged 102; tributes pour in
As the revenue minister in the first EMS Namboodiripad government in Kerala in the 1950s, Amma was the architect of land reforms in the state. She was instrumental in setting up the country's first Information Technology Park (Tehnopark) with the help of former technocrat KPP Nambiar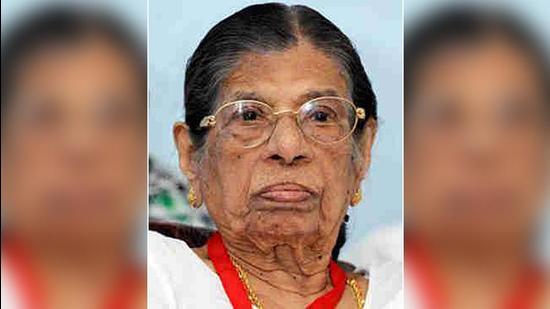 Updated on May 12, 2021 02:13 AM IST
KR Gouri Amma, 102, the architect of land reforms in Kerala, its first woman minister and one of the longest-serving legislators, died at a private hospital in Thiruvananthapuram due to age-related ailments, her family said on Tuesday.
She helmed the key revenue ministry and drafted the Kerala Agrarian Relations Act for ownership of land to peasants who tilled it after the first democratically elected Communist government assumed power in Kerala in 1957. Amma and T V Thomas became the first couple in a government when the two ministers in chief minister EMS Namboodiripad's ministry got married the same year.
She was a founding member of the Communist Party of India (Marxist), or CPI (M), when the Communist Party of India (CPI) split in 1964 over ideological differences. Thomas remained with the CPI. The CPI(M) is said to have built a wall in the couple's house before ideological differences had the couple part ways. Thomas died of cancer in 1977.
Known as the "stormy petrel" of Kerala politics, Amma was a six-time minister, who was elected to the state assembly 12 times. Ahead of the 1987 election, the CPI (M) projected Amma as the chief ministerial candidate and coined a slogan in Malayalam that meant "she is set to rule Kerala". But after the election, the party named E K Nayanar as the chief minister. A sidelined Amma fell out with CPI (M) general secretary Namboodiripad and she was expelled from the party in 1994. Amma later floated Janadhipathya Samrakshana Samithi and allied with Congress-led United Democratic Front (UDF). Amma was a minister in K Karunakaran, AK Antony, and Oommen Chandy-led UDF governments before she returned to the Left Democratic Front in 2016.
Also Read | Practically impossible to provide oxygen to other states: Kerala CM
In the 1980s, she served as the industry minister in the EK Nayanar government and was instrumental in setting up the country's first Information Technology Park (Tehnopark) with the help of technocrat KPP Nambiar.
Amma, who was known for her fiery orator, was born in Alappuzha's Pattanakad village in 1919. She was the first law graduate from the backward Ezhava community. Amma enrolled as a lawyer at a court in Cherthala before joining CPI in 1947. She was associated with the labour movement and was jailed and suffered torture when the party was banned.
Tributes poured in after the news of Amma's death broke. Kerala chief minister Pinarayi Vijayan called Amma a brave fighter, who dedicated her life to end exploitation and build an egalitarian society. "She made seminal contributions in building the Communist movement & as an administrator. Let's show respects, by pledging to build a more progressive society. Red Salute!," he tweeted.
Former defence minister AK Antony and Governor Arif Mohammad Khan were among others who condoled Amma's death.
In his condolence message, the Kerala Governor said Gowri Amma, with her extraordinary courage and inspiring leadership, was a perfect symbol of women empowerment. "K R Gowri's struggles to ensure social justice and her contributions to land reforms and industrial growth in Kerala will always be gratefully remembered. May her soul attain Mukti."
Congress leader Rahul Gandhi tweeted, "My heartfelt condolences to the family of K R Gowri Amma ji. A tall presence in Kerala's politics, she remains a source of inspiration to many."
Topics
Close Story