Deliberate denial of justice happens only in Jammu and Kashmir: Amnesty India chief
Updated on Sep 14, 2017 11:51 AM IST
Aakar Patel in an interview with HT says there are many instances of Constitutional laws not being followed in the trouble-torn state.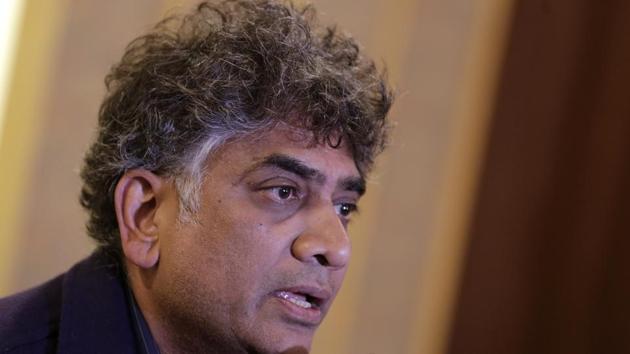 As Amnesty International urged India to ban use of pellet-guns to quell crowd protests in restive Jammu and Kashmir in a report on the impact of the controversial weapon, the HT spoke to Aakar Patel, the head of the rights body in India.
The international human rights watchdog released the report "Losing Sight in Kashmir: The Impact of Pellet-Firing Shotguns" in Srinagar on Wednesday. The report, peppers with photographs of blinded pellet victims, presented the cases of 88 people whose eyesight has been damaged by the projectile.
Patel on the side-lines of the report launch spoke on wide range of issues confronting the picturesque state, which saw a spike in violent protests after the death Hizbul Mujahideen commander Burhan Wani last year. Here are excerpts from the interview.
What are the key findings of the report on pellet-gun usage?
That it is an indiscriminate weapon. It has injured people as young as nine. Our research shows that even a few security personnel have been injured by it. When a shotgun is being used on a crowd, it does not surprise us that it causes injuries such as we have seen. It is not meant for crowd control. It's not used anywhere in the world. It's not used anywhere in India either.
Why aren't pellet guns used anywhere else in the country?
I think that is because the usage would lead to much pressure from local population and local parties. Unfortunately, despite our claims of unity and integrity, we are treating people of this state very differently and in a prejudiced manner.
Often civilians get killed as forces try to quell protests…
Whenever you attempt crowd control with lethal weapon, there will be death tolls even if the forces using them do not intend fatalities. We need to ensure that we use reasonable force. Nobody will deny that whenever there is a violent protest, authorities have a legitimate right to use force – but it should be proportionate.
If it's disproportionate you will get what you have seen. We should make sure our Constitutional laws are followed and I don't think in many instances in Kashmir they are followed.
How do you see the current situation in Kashmir?
There are things which create a feeling of a lack of justice among people…. For instance, AFSPA (Armed Forces Special Powers Acts) has a mechanism – it's called Section 7, wherein, if there is evidence against somebody from the armed forces of committing a crime, immunity can be lifted and that individual can be prosecuted in a civilian court.
The process to be followed is that an FIR is to be registered, the police investigate the crime, a charge-sheet is filed, and the charge-sheet is sent to the Union government. Our research has found that since 1989, the Union government has not replied to the JK government even once in any of the cases they have sent. JK police continue to send these charge-sheets, the union government does not respond. This is violation of constitutional law.
Three things are happening here. First, the government of JK and the police of JK are undermined. Secondly, survivors and victims of these crimes do not know when they will get justice, and thirdly, it reinforces perception that people from these parts are being treated as a second class citizen, who cannot have any expectation of delivery of justice.
Against such backdrop, we should not be surprised to see the reactions we are seeing. People are angry in Kashmir. If you deny them justice, you should expect them to be angry.
True, denial of justice happens across India and not just in JK. But deliberate denial of justice happens only in JK.
Is there a change in the Kashmir policy after the current government came to power?
I feel that for a Kashmiri things don't change too much. She is denied justice under the Congress government, under the Janata Dal government and under a BJP government. What has changed is the rhetoric – the nasty language we have seen coming out of Delhi and especially television media is very damaging.
When you reward an army-man for kidnapping a citizen and violating his rights, putting him under threat, it is the worst kind of message you can send to people of Jammu and Kashmir.
We are either ignorant or we are doing that deliberately to send a message – and both of those are very, very wrong.
What's the impact of campaigning such as the one Amnesty launching to ban pellet guns on common people and the government?
It is difficult to measure the impact. Our job is to work with the state. We are not adversarial to the state. We believe in the rule of law, we believe that the state is the largest and the most dominant player in the delivery of rights.
It is also true that the government doesn't engage with you on many issues, but we need to keep working until we reach a point when the attitude changes. But it's tough – to get governments to change the way they are doing things is not easy.