After Gandhis lead stir in Parliament, Rahul among Congress MPs detained
Published on Aug 05, 2022 12:10 PM IST
The Congress is holding a massive protest across India, dubbed as "Halla Bol", against the government.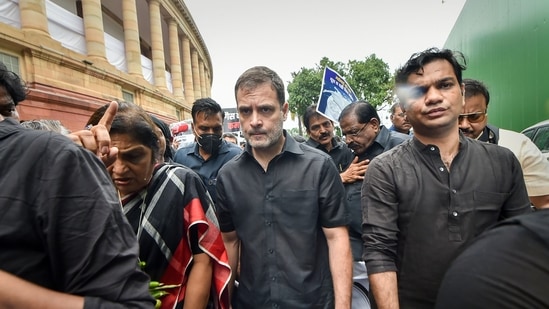 Rahul Gandhi was detained for the second time within days after a march in Parliament to the Rashtrapati Bhavan was launched by the Congress MPs against the government over inflation. Just shortly before his detention, along with other party colleagues, the Gandhis were seen leading demonstrations inside the Parliament premises.
The Congress launched a pan-India protest - dubbed as "Halla Bol" - in protest against the government. In Delhi, cops had announced ban on large gatherings in the New Delhi district and had clarified that no demonstrations would be allowed. However, with barricades put up all over amid huge police force, standoffs between cops and Congress leaders ensued soon after the agitation started.
"Our job is to raise the issues of the people... some Congress MPs were detained, also beaten by police," Rahul Gandhi said while speaking to reporters.
He and his party members were seen wearing black clothes to register the protest on inflation. Last week, he was detained with top Congress leaders amid agitations against Sonia Gandhi's questioning by the Enforcement Directorate in the National Herald case.
Earlier, in a video tweeted by the party, Congress chief Sonia Gandhi was seen standing in parliament as her colleagues raised slogans against the government over the GST (Goods and Sales Tax) on food products. Visuals showed Rahul Gandhi leading a march to the President's house.
Another dramatic clip showed Priyanka Gandhi Vadra knocking down police barricades, and sitting on road, surrounded by huge crowds. She too was forcibly removed and taken away by cops.
Ahead of the march, a BJP vs Congress war of words was triggered as Rahul Gandhi said, "India is witnessing death of democracy". "Is there democracy in the Congress," the BJP's Ravi Shankar Prasad had shot back saying, recalling the Emergency era under the Congress rule when Indira Gandhi was the prime minister.
Personalise your news feed. Follow trending topics