Rahul Gandhi was in Kerala where he hit out at the Pinarayi Vijayan government.

The Congress MP's remarks came against the backdrop of the top court pulling up former BJP spokesperson Nupur Sharma over her remarks on Prophet Mohammed.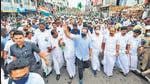 In his first visit to Wayanad since the attack on his office, Rahul Gandhi also slammed the Bharatiya Janata Party-led central government's policies for farmers, saying while it had waived loans of big corporates nothing had been done for farmers neck-deep in debt.

Written by Ishika Yadav | Edited by Chandrashekar Srinivasan
Gandhi, who was recently questioned by the Enforcement Directorate (ED) for more than 50 hours in the National Herald money laundering case, said the Congress' 'Satyagraha' across the country would not stop until the youth get justice.

Written by Shubhangi Gupta | Edited by Sohini Goswami
, New Delhi
Yashwant Sinha filed his nomination three days after Murmu. On June 24, he reached out to Prime Minister Narendra Modi and defence minister Rajnath Singh, seeking their support for his candidature.