Married off before they were 18, Rajasthan's child brides are finding freedom
Women who were married in childhood are exploring new lives and careers after an activist helped annul the illegal alliances they were forced into.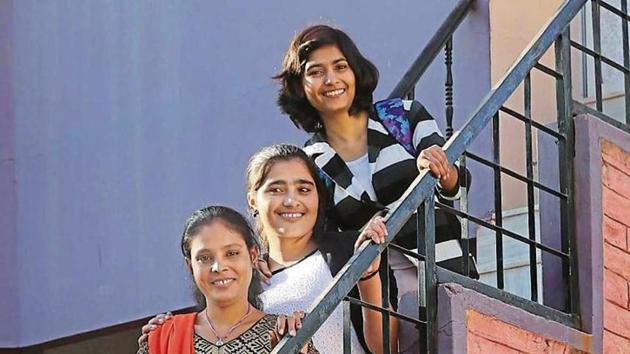 Published on Feb 16, 2018 07:16 AM IST
On a balmy April night in 2016, Sushila Bishnoi, 18, stepped out of her in-laws' house in a western Rajasthan village. It was well past midnight when she began a three-km trek to the nearest highway, where Sushila hoped to meet an activist she had called up earlier.
Married off at the age of 12, Sushila was among thousands of young girls of Rajasthan who become child brides every year, some of them barely a year old. But Sushila was determined to break free from the shackles of wedlock forced on her.
But this would not have been possible without the help of Kriti Bharti, 29, who runs an NGO, the Saarthi Trust, which helps child brides get out of illegal wedlock in courts.
On September 25 last year, Sushila became a free woman after a Jodhpur court annulled her marriage to Naresh Bishnoi, six years older to her.
For Bharti, however, it was just a small victory in her war against child marriages, a practice rooted in tradition and widely accepted in Indian society.
According to a Supreme Court observation, there are 23 million child brides in India, the highest in the world.
National Family Health Survey (2015-16) data shows that 26.8% of girls in India are married before their 18th birthday. In Rajasthan, the percentage of such girls is 35.
Though boys are also married off early, it is the girls who are most affected. Health experts say early and forced marriages lead to early and unsafe motherhood, putting the lives of the girls at risk. According to the NFHS data, 7.9% women in the 15-19 age group were already mothers or pregnant at the time of survey.
Besides, such marriages also imperil many development goals such as improving education, ending poverty and reducing family size.
"Each case gives me new hope to free more young people from illegal alliances. But we don't leave them at annulment; we also work with them for complete rehabilitation and make sure that they get back on their feet as they begin a new, liberated life," says Bharti.
Building a case
But for activists like Bharti, helping a girl seek the court's help is one issue. Fighting the case in court is a different matter altogether.
In some cases, the parties mutually agree to end the union; in others, the man's family contests the annulment.
Sushila's case was different: her husband, Naresh, denied the wedding. The first step then was to prove the two were married. Behind the scenes, Sushila's father also continued to put pressure on her to return to her in-laws' house.
Bharti met people in Sushila's village and her relatives to get a witness. But no one was ready to testify in court.
The search for evidence took her to the internet.
Trawling Naresh's Facebook timeline, the activist hit the bullseye: his status was 'married' and there were congratulatory messages from friends. The technical evidence clinched the issue in Sushila's favour.
And then there are real threats to life and limb, mainly from people on the girl's side.
On the night of her escape, Sushila and Bharti's vehicle was intercepted by a group of lathi-weilding men from her village: they were searching the vehicles on the highway looking for Sushila.
Bharti hid Sushila under a blanket and lay sprawled on the back seat of the car as prying eyes surveyed the inside of the vehicle. But before a thorough check, the men spotted another vehicle with a young couple. Noticing a woman in veils, they lunged for the second car. Bharti and Sushila managed to escape through sheer luck and reached Jodhpur, nearly 250km away.
Poems and dreams
Sushila, who had even contemplated suicide if she failed to escape, has cleared Class XII exams under the National Open School system, scoring 62 %.
"I want to become a police officer," she said. She is also using her spare time to paint and write poetry.
She is staying at a government-run shelter home in Jodhpur because she decided to be "homeless" rather than return to her parents.
Last year, the Supreme Court ruled that sexual intercourse with a wife aged between 15 and 18 is rape and a punishable offence, a landmark decision hailed by activists.
Before that, India added a clause for annulment in the Prohibition of Child Marriage Act (PCMA) 2006. The law replaced the Child Marriage Restraint Act of 1929.
The 2006 law said marriages solemnised in childhood could be nullified within two years of the partners attaining maturity, Bharti said.
However, the first annulment happened six years later. In April 2012, Laxmi Sargara became the first woman in the country to annul her marriage.
Bharti said she has helped annul 34 child marriages so far and around 15 cases are in courts.
The child brides who are free women now are charting new lives.
Pinki Kanwar, 19, is in the first year of a teacher training college.
The Alwar woman was married off when she was just 11 years. The groom was 10 years older. A few years ago, he began visiting her house to force her separated mother to send her to his house. Kanwar wanted to study and become economically self-sufficient.
Last year, her family found out that the man was infected with the HIV virus. Kanwar and her mother travelled to Jodhpur to meet Bharti to discuss annulment. The marriage was annulled in February this year.
Santa Meghwal, 22, was a toddler – just 11 months old – when she was married along with her elder sister, Ganga. It was a mass wedding of 42 girls, all below the legal age for wedding, says Meghwal.
When she filed the annulment case, a caste panchayat in Rohicha Kalan village in Luni block slapped a fine of Rs 16 lakh on the family and ex-communicated it for two years.
Her family gave in to caste pressure but Bharti stood with Meghwal and in October 2015, she was a free woman.
Meghwal goes to the library in the old campus of Jai Narain Vyas University to prepare for competitive examinations.
"I will become a teacher and motivate girls to be strong to raise their voices against child marriage," she says. Her family are now reconciled to her decision.
"They call me madam when I visit my village," she adds.
Sushila, meanwhile, is dedicating most of her poems to 'Kriti ma'. The 29-year-old activist is the fairy godmother to most of the child brides who owe their freedom to her.
Close Story
Personalise your news feed. Follow trending topics