Opposition will allow passage of 127th Constitution Amendment Bill
The 127th Constitution Amendment Bill 2021 aims to bypass a May 2021 Supreme Court ruling that said only the Centre could notify socially and educationally backward classes — and not the states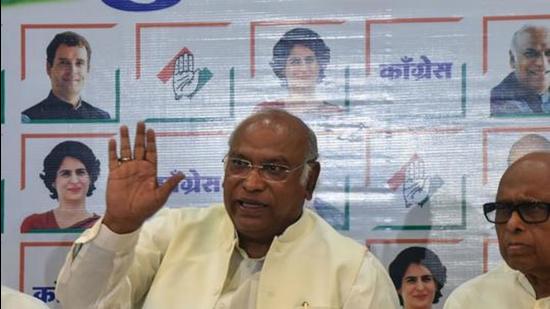 Updated on Aug 09, 2021 12:21 PM IST
The Opposition on Monday decided that it will "cooperate" with the Narendra Modi government to clear a constitutional amendment that aims to restore the power of states to identify backward castes. The Bill will come for passage in the Lok Sabha today.
At a meeting held at Rajya Sabha Leader of Opposition Mallikarjun Kharge's office here, various parties spoke about the important Bill while trying to finalise their strategy for the remaining part of the session.
While two parties were in favour of continuous protests, others were of the opinion that the Constitution amendment should be cleared as it empowers the states on a very sensitive subject.
"We decided that we will allow and cooperate for the passage of the Constitution amendment bill. On all other issues, our protest will continue," said CPIM's Elamaram Kareem, one of the leaders present in the meeting.
The 127th Constitution Amendment Bill 2021 aims to bypass a May 2021 Supreme Court ruling that said only the Centre could notify socially and educationally backward classes (SEBCs) — and not the states.
Click here for LIVE Updates of Parliament proceedings
The apex court's decision triggered protests by state governments and other backward caste (OBC) groups. The Bill comes ahead of crucial elections in five states early next year.
Opposition support to the Bill is significant as a constitutional amendment requires two-thirds majority of lawmakers who are present during the proceedings, with at least 50% in attendance.
But some parties may chose to use opportunities in the debate to highlight the Pegasus issue, the recent rape of a dalit girl and the farm agitation, another Opposition leader said.
So far, the monsoon session of Parliament, which began on July 19, has been rocked by frequent protests and disruptions. Both Houses have seen Opposition lawmakers troop to the Well, hold placards and shout slogans against the government over their demand to discuss the Pegasus row, the three farm laws and rising fuel prices. Last week, a Rajya Sabha MP -- TMC's Santanu Sen -- was suspended for the session for alleged "unruly" behaviour, with Opposition leaders accusing the Chair of not allowing them to express their views.
Close Story
Personalise your news feed. Follow trending topics