Modi to hold talks with Xi Jinping on two-day visit to China this week
This will be Prime Minister Narendra Modi's fourth visit to China after he came to power in 2014.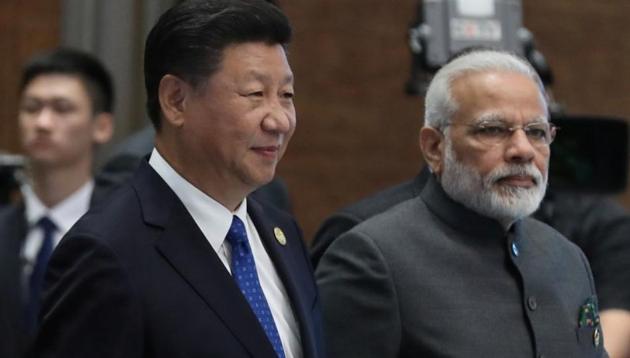 Updated on Apr 23, 2018 07:06 AM IST
Hindustan Times, Beijing |
Sutirtho Patronobis
Prime Minister Narendra Modi and President Xi Jinping will hold a rare "informal summit" in central China's Wuhan city on April 27 and 28 in a bid to strengthen sagging ties.
"It's a new milestone in the China and India history," Chinese foreign minister Wang Yi said at a joint press conference with external affairs minister Sushma Swaraj in Beijing on Sunday.
Swaraj said the meet will be "an important occasion for them to exchange views on bilateral and international matters from an overarching and long-term perspective with the objective of enhancing mutual communication at the level of leaders".
Modi and Xi are expected to spend hours in discussing perspectives about global and domestic scenarios and explore ideas to address festering bilateral issues like the border dispute.
Underlining its importance, Swaraj said the meeting "flows from the understanding reached by the two leaders last year that India-China relations are a factor for stability in a period of global changes and have common responsibility for peace, security and prosperity for the world".
This will be Modi's fourth visit to China since 2014. He is due to visit China again on June 9 and 10 to take part in the Shanghai Cooperation Organisation (SCO) Summit in Qingdao city.
The meet has likely been separated from the multi-lateral SCO summit to underline the importance of Sino-India bilateral ties — it will emphasise that New Delhi and Beijing are moving ahead of the Doklam standoff.
"It's informal summit, they'll be meeting in informal environment, agenda will be open, they'll spend lot of time over 2 day and there'll be different kind of conversations, much more personal and interactive," former foreign secretary and Indian envoy to China S Jaishankar told ANI.
Luo Zhaohui, the Chinese ambassador to India, called it a "historic informal summit" in a tweet.
Wang said that meeting would be a new milestone in relations between the two countries.
"We see socialism with Chinese characteristics entering a new era and India acts as a crucial stage in its development and revitalisation, "It is against this backdrop that President Xi and Prime Minister Modi have decided to hold the informal summit," he said.
Swaraj also said that Beijing had agreed to resume data sharing on the flow of water in the Brahmaputra and Sutlej rivers, which originate in China and flow into India.
"We are also happy that the Kailash Mansarovar yatra through the Nathu La route will be resumed this year," she added. The pilgrimage had been cancelled last year following the tense standoff between the militaries of the two countries at Doklam near the Nathu La route which lasted for more than 70 days, chilling bilateral ties and leading to the suspension of dialogue mechanisms between the two neighbours.
The Wuhan summit is expected to resurrect ties.
Chinese scholars on India have welcomed the move.
"This meeting is very significant and the first informal summit (between India and China) of this kind," Lu Yang, south Asian scholar at the Institute of Belt and Road Initiative, Tsinghua University said.
"It is not surprising that the two leaders are meeting before the SCO summit. The relations among top leaders or political strongmen are at least as equal as state to state or party to party relations. Political leaders now themselves try to take care of ticklish bilateral issues through informal ways of engaging with each other," Hu Shisheng, director of the Institute of South and Southeast Asian and Oceania Studies in Beijing said.
Swaraj, who reached Beijing on Saturday night, is officially here to attend the SCO foreign ministers' meet on Tuesday in the run-up to the bloc's summit in the coastal city of Qingdao in June. India and Pakistan were admitted to the China-led bloc in 2017.
During her stay in Beijing, Swaraj is also expected to interact with the foreign ministers of Kazakhstan, Kyrgyzstan, Russia, Tajikistan, Uzbekistan and Pakistan.
Defence minister Nirmala Sitharaman will also arrive here on April 23 to take part in the SCO defence ministers' meeting the next day. Sitharaman is expected to meet her Chinese counterpart Lt Gen Wei Fenghe.
Close Story
Personalise your news feed. Follow trending topics