Renowned infectious diseases expert Dr Rajendra Kapila, 81, dies of Covid-19
Dr Kapila worked extensively on HIV-AIDS, trained many people in the field and practised at Rutgers University for 50 years.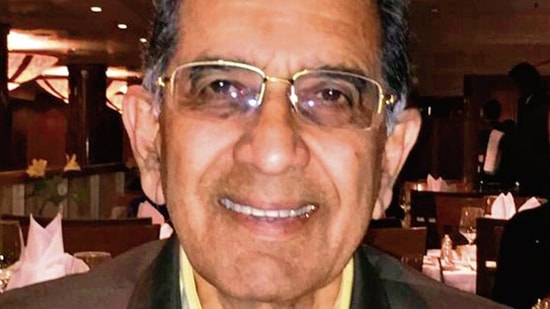 Updated on May 05, 2021 02:21 PM IST
Ghaziabad: Renowned infectious disease specialist and Rutgers University professor Dr Rajendra Kapila passed away in Delhi on April 28 after having tested positive for Covid-19 on April 8. He was 81.
Dr Kapila worked extensively on HIV-AIDS, trained many people in the field and practised at the Rutgers University for 50 years.
He had returned to India with wife Dr Deepti Saxena-Kapila in the last week of March and stayed in Ghaziabad. He was supposed to fly back to US by second week of April but was admitted to Delhi's Shanti Mukund Hospital where he died.
"For the last one year I have been working at a Covid-19 lab in New Jersey and had ensured a safe environment at home," said Dr Deepti, who specialises in microbiology. "It is ironic that we came to India for two weeks and he contracted it here."
She said Dr Kapila had got both doses of the Pfizer vaccine in the US.
In a memorial message sent out by Rutgers University faculty, Dr. Marc Klapholz , professor and chair of the department of medicine, said, "A genuine giant in the field of infectious diseases, Dr. Kapila was recognized world-wide and sought out for his legendary knowledge and extraordinary clinical acumen in diagnosing and treating the most complex infectious diseases. Dr. Kapila made countless contributions to the field of infectious diseases, including some of the earliest observations about AIDS (1983) and continued to publish throughout his long career."
Dr Ishwar Gilada, consultant for HIV and infectious diseases, and president of the AIDS Society of India (ASI) had trained under Dr Kapila in 1987.
"He was a gem of a gentleman and was well known in the US. He cared for all his pupils and would always accept ASI invitations for meetings," said Dr Gilada, who is based out of Mumbai.
Dr Ruby Bansal, an HIV specialist and head of the preventive health programme at Yashoda Super Speciality Hospital at Kaushambi, described Dr Kapila as one who was passionate about teaching.
"Whenever Dr Kapila visited India, he would deliver lectures to fellow doctors at major private hospitals in the city and never said 'no' to an opportunity to teach," said Dr Bansal.
Dr Kapila completed his MBBS from Maulana Azad Medical College, University of Delhi, and in 1964, achieved his MD from College of Medical Sciences, Guru Teg Bahadur Hospital, University of Delhi.
As per his profile on the Rutgers University website, he was an intern, resident and fellow at the Martland Hospital in Newark, New Jersey. He was also the assistant chief of medicine for the US Army in Okinawa, Japan, during the Vietnam conflict. He was a founding member of the New Jersey Infectious Disease Society, and has also received the Excellence in Teaching Award from UMDNJ. Dr. Kapila was the Chair of the Infection Control Committee there.
"Dr Kapila's death is a great loss for the medical fraternity as his studies in the field of infectious diseases, be it HIV or fungi or even coronavirus, was par excellence. When coronavirus outbreak began, he devoted his time in its research," said Dr Bansal.
Robert A Schwartz,member of US Presidential Advisory Council on HIV/AIDS and professor and head of dermatology at Rutgers University condoled the demise of Dr Kapila on Twitter, saying, "Condolences to the family of Rajendra Kapila, the @RutgersU professor, @CityofNewarkNJ physician, and @USArmy veteran who advocated for the finest healthcare attainable for all. He will be remembered for his unmatched sagacity and conduct exemplarily of the @AOA_society motto. (sic)"
Close Story
Personalise your news feed. Follow trending topics