Why meteorological department's monsoon forecast is often inaccurate
Hindustan Times, New Delhi |
Jayashree Nandi
Apr 21, 2019 08:03 AM IST
The India Meteorological Department's southwest monsoon forecasts provide critical information to at least 700 million people in India who depend, directly or indirectly, on agriculture for a livelihood. Yet, the predictions are, quite often, far from accurate.
The India Meteorological Department's southwest monsoon forecasts provide critical information to at least 700 million people in India who depend, directly or indirectly, on agriculture for a livelihood. Yet, the predictions are, quite often, far from accurate. The reason: a very high variability in rainfall patterns.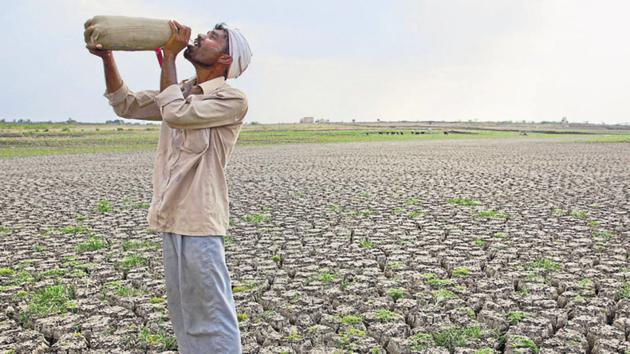 To be sure, the error margin for monsoon forecasts has declined, from 7.94% between 1995 and 2006 to 5.95% between 2007 and 2018. Even so, over the last 11 years, the actual rainfall matched the forecast only half the time.
And the predictions are not likely to get any better. Uncertainties associated with climate change mean that even the dynamic global models used to predict monsoon rainfall and distribution cannot significantly improve the accuracy of the forecasts, experts said.
In 2007, for example, IMD had forecast "below normal" rainfall of 93% of the long-period average (LPA), but the rainfall India actually received was "above normal" at 106%.
In 2009, IMD again predicted below normal rainfall of 93% of the LPA, but the actual rainfall was only 78%, which belongs to "deficient" or drought category. In 2016, IMD predicted "excess" rainfall, which in actuality turned out to be average.
Last year, too, the IMD was off the mark, having predicted 97% of LPA when the country received rainfall that was 91% of the LPA, the average for 50 years.
IMD couldn't have forecast that rainfall will be below normal in 2018, said M Rajeevan, secretary, ministry of earth sciences, because "we didn't foresee the massive rainfall deficiency that the northeastern states would face.
For the first time ever, northeast India received less than 80% of LPA."
IMD is an arm of the ministry of earth sciences.
"No natural phenomenon can be predicted accurately; it's even more difficult when climate change causes aberrations," said DS Pai, senior scientist at IMD, Pune.
The seasonal forecasting of the southwest monsoon, which waters more than half of India's crops and accounts for three-fourths of its annual rainfall, has been done with the help of statistical and dynamical models since 2017.
Before that year, the forecasts were based only on statistical models. Farmers depend on the forecasts of rainfall during the June-September monsoon to decide on what crops to sow.
"The dynamic models are very high resolution mathematical models that show weather phenomenon in every part of the globe with a 3D picture of atmospheric and ocean phenomenon. We are using both dynamic and statistical models now but we will soon replace it with only the dynamic model," said Pai.
"A statistical model is easy to deal with as you assume past relationship between rainfall and various atmospheric and oceanic predictors to hold good this year. As such relationships keep on changing with time, for example when there is El Niño-Southern Oscillation, there is always a chance of witnessing a forecast failure without any warning," said Akshay Deoras, a PhD researcher at the department of meteorology, University of Reading, UK.
El Nino is a weather phenomenon associated sometimes with drought in the subcontinent. El Niño-Southern Oscillation, also known as ENSO, is a periodic fluctuation in sea surface temperature and the air pressure of the overlying atmosphere (Southern Oscillation) across the equatorial Pacific Ocean, according to the US National Oceanic and Atmospheric Administration.
"A dynamical model is more complicated to deal with. Some of the issues faced by such models in simulating the southwest monsoon include biases in rainfall over India compared to the observations, improper simulation of important features of the monsoon circulation and improper representation of relationships between sea surface temperature and monsoon rainfall. In addition, models have constraints in capturing the changing nature of predictors due to climate change - for example, region of maximum heating in the Pacific Ocean associated with the El Niño events," Deoras added.
Climate scientists say that the statistical ensemble forecasting system (SEFS) may not be relevant anymore because of climate change-related unpredictability in weather phenomena.
"The dynamical model IMD uses, called global coupled forecasting system, is something they have started forecasting with only in the last couple of years.
It is as good (or as bad) as any in the world. This will hopefully replace the SEFS one day because under climate change, the old statistical relationships (that SEFS is based on) may no longer hold," said Krishna AchutaRao, climate scientist at the Centre for Atmospheric Sciences (CAS) at Indian Institute of Technology- Delhi.
The large uncertainty of global models in predicting the impact of climate change on the monsoon has led a team from the Indian Institute of Tropical Meteorology (IITM) to develop an IITM Earth System Model (IITM-ESM) that will be used for seasonal monsoon forecasts. It will also contribute to the Intergovernmental Panel on Climate Change's (IPCC) sixth Assessment Report on how the world is being affected by climate change, to be released in 2020.
The IITM model projections have indicated that there has been a weakening of the Indian monsoon in recent decades, leading to an overall decrease in rainfall.
This trend has been supported by long-term monsoon data from the IMD, but the model also shows that in future there will be a perceptible enhancement in overall monsoon rainfall as well as increase in extreme weather events like floods and droughts associated with climate change.