US 'expects' Pakistan to work on Pathankot attack leads given by India
Updated on Jan 05, 2016 04:14 PM IST
The US has said it expects Pakistan to act in bringing to justice the perpetrators of the Pathankot attack and asked Islamabad to live up to its pledge that it will not "discriminate" among terror groups.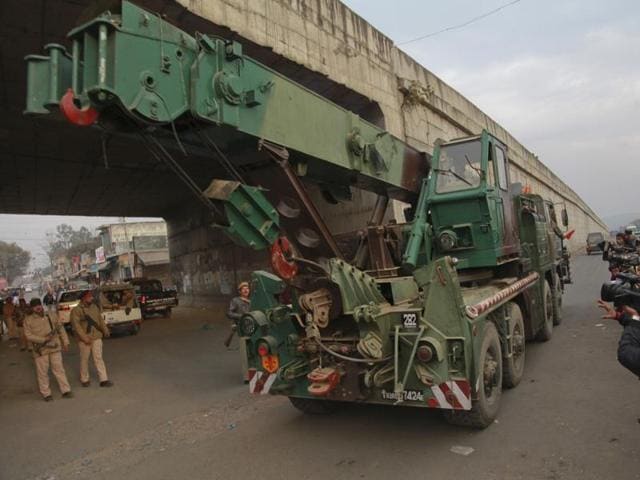 The US has said it expects Pakistan to bring to justice the elements responsible for the attack on the Indian airbase at Pathankot without discriminating between terrorist groups during its counter-terrorism operations.
The State Department outlined its position on the Pathankot attack on Monday, hours after Pakistan said it was working on leads provided by India regarding the brazen assault that left seven security personnel dead. At least five attackers were also killed.
"The government of Pakistan has spoken...very powerfully to this, and it's certainly our expectation that they'll do exactly what - they'll treat this exactly the way they've said they will," State Department spokesman John Kirby told a news briefing in response to questions.
Read: Missed clues, security gaps in run-up to Pathankot airbase attack
The US, he said, wants all countries in the region to "work together to disrupt and dismantle terrorist networks and to bring justice to the perpetrators" of the Pathankot attack.
"And we've been clear with the highest levels of the government of Pakistan that it must continue to target all militant groups, and the government of Pakistan has said publicly and privately that it's not going to discriminate among terrorist groups as part of its counter-terrorism operations," Kirby said.
The leads shared by New Delhi with Islamabad include intercepts of mobile phone calls made by the attackers to their Pakistan-based handlers and the numbers to which calls were made, sources said. Indian security officials have said the assault on the airbase was the work of the Jaish-e-Mohammed (JeM) terror group.
Reports have suggested that India has linked a planned meeting of the foreign secretaries on January 15 to action on the evidence against the JeM.
Kirby described terrorism as a shared challenge for the region and said there were terrorist safe havens "between Afghanistan and Pakistan and certainly between India and Pakistan" that the US wants "to see cleared out".
He added: "And we continue to engage with the government of Pakistan to that end. And again, I would point you back to what the government of Pakistan itself has...acknowledged that it's not going to discriminate among terrorist groups and it will continue to take the fight."
Read: Probe shows Pak-based elements behind Pathankot attack: NIA chief
The US will also work for increased cooperation, communication, coordination, increased information-sharing and increased efforts against terrorism, Kirby said.
Responding to a specific question on whether Pakistan is taking enough steps against groups such as Lashkar-e-Taiba and JeM, Kirby said: "So we want to see the government of Pakistan continue to press the fight against terrorists, all terrorists, and to - as I said, to meet their own expectations that they're not going to discriminate among groups."
The US also believes the normalisation of relations between India and Pakistan is "vital to the security and economic prosperity of the entire region", he said. "We strongly encourage the governments of both India and Pakistan to remain steadfast in their commitment to a more secure and prosperous future for both their countries and for the region."