Beti Bachao, Beti Padhao: Why PM Modi picked Jhunjhunu for scheme expansion
Rajasthan has improved its child sex ratio (CSR) by 34 points from 888 girls per 1000 boys in 2011 to 922 per 1000 boys in 2017-18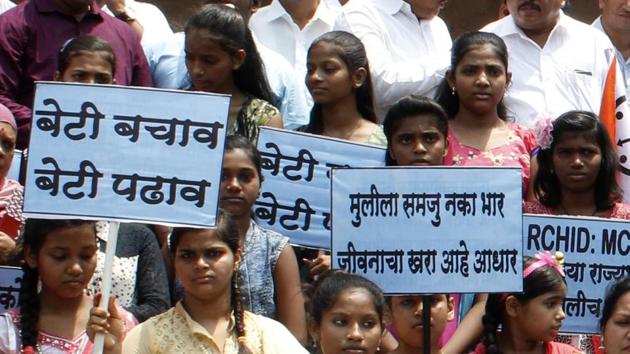 Updated on Mar 07, 2018 09:47 PM IST
Prime Minister Narendra Modi will announce the extension of Beti Bachao, Beti Padhao (BBBP) campaign, currently being run in 161 districts in the country including 14 districts of Rajasthan, to the entire country from Jhunjhunu district on March 8, which happens to be the International Women's Day.
This privilege comes for Rajasthan in the wake of improved child sex ratio (CSR) in the state which, according to the state health department data, has improved by 34 points from 888 girls per 1000 boys in 2011 to 922 per 1000 boys in 2017-18.
The BBBP campaign was launched by the PM on January 15, 2015, from Panipat in Haryana with an aim to address declining sex ratio and educate girls in the country. In the first phase, the campaign was launched in 100 districts of the country. In the second phase, 61 more districts were added to it.
Taking the campaign seriously, the health department of Rajasthan implemented the Pre-conception and Pre-natal Diagnostic Techniques (PCPNDT) Act strictly in the state. As a result, the 14 districts in Rajasthan where the BBBP campaign is being run have shown good improvement in the sex ratio. These districts are Alwar, Bharatpur, Dausa, Dholpur, Sriganganagar, Jaipur, Jhunjhunu, Karauli, Sikar, Sawai Madhopur, Hanumangarh, Jaisalmer, Jodhpur and Tonk.
According the health department data, CSR in Alwar, Bharatpur and Jodhpur districts has increased by 45 points each, Dausa by 53 points, Dholpur by 70 points, Sriganganagar and Sikar by 74 points each, Jaipur I by 31 and Jaipur II by 48 points, Jhunjhunu and Karauli increased by 67 points each, Sawai Madhopur by 49 points, Hanumangarh by 75, Jaisalmer by 19, and Tonk by 51 points. In other districts, the CSR has increased ranging between 1 and 44 points.
Social activist Rajan Choudhary said the health department has played a vital role in the BBBP campaign. "Since 2009 till date the state PCPNDT cell has conducted 107 decoy operations including in neighbouring states of Delhi, Haryana, Punjab, Gujarat, Madhya Pradesh and Uttar Pradesh that created fear among people involved in sex determination," he said.
Dr Narendra Gupta, convener of Jan Swasthya Abhiyan (JSA) in Rajasthan, said the role of health department cannot be underplayed as without saving the girl child, the woman and child development department cannot empower women and end gender-based discrimination and education department cannot educate girl child. Health department has saved girl children in the state and made efforts for their survival too.
It may be mentioned here that after the launch of BBBP drive in January 2015, the decoy operations in Rajasthan have increased from five in 2015 to 25 in 2016, 42 in 2017 and 11 from January 2018 till date.
Close Story